Novak Djokovic's entry to Australia has been delayed over an issue with his visa.
The No 1 tennis player arrived in Melbourne on January 5, where authorities noticed that his team had made a mistake on his application.
Novak Djokovic is due to play in the Australian Open, after being exempted from vaccination rules.
However, the Serbian player's team had not requested a visa that permits medical exemptions for being unvaccinated.
All players and staff at the tournament must be vaccinated or have an exemption granted by an expert independent panel.
Djokovic has been quizzed for hours about his visa status and exemption evidence in a room in Melbourne's Tullamarine Airport and is still awaiting a decision. He has not spoken about his vaccination status, but last year he said he was "opposed to vaccination".
Australia's border force had sought clarification from the Victorian state government about his visa application, the Melbourne-based Age newspaper reports.
But state government Minister Jaala Pulford tweeted that Djokovic's application would not be supported. Visa approvals were a matter for the federal government, she added.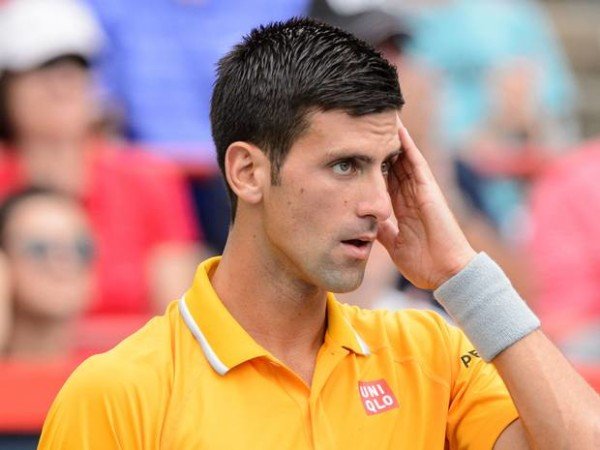 Meanwhile, the player's father, Srdjan Djokovic said his son was being held in a room guarded by police.
"I have no idea what's going on, they're holding my son captive for five hours.
"This is not just a fight for Novak, but a fight for the whole world. If they don't let him go in half an hour, we will gather on the street" Novak's father said in a statement released to the media.
Djokovic's coach and fellow Grand Slam champion Goran Ivanisevic posted a photo of himself on Instagram from a room in Melbourne, along with the caption: "Not the most usual trip Down Under."
Earlier, Australia's prime minister said Novak Djokovic would be refused entry to the country unless he provided evidence that he could not be vaccinated for medical reasons.
Scott Morrison said the tennis player "could be on the next plane home" if the proof was insufficient.
The tournament's organizers say the defending champion has not been given special treatment, but the decision has infuriated many Australians. Australia is seeing tens of thousands of Covid-19 cases for the first time after enduring some of the world's strictest restrictions.
Scott Morrison said Novak Djokovic would be required to present evidence upon arrival that he has a genuine medical exemption from vaccination.
The Australian Open begins on January 17 in Melbourne.
The tournament's chief executive, Craig Tiley, said 26 athletes had applied for medical exemptions. "A handful" had been granted, he said, under guidelines set by federal regulators.
"We made it extra difficult for anyone applying for an application to ensure it was the right process and to make sure the medical experts deal with it independently," he told Channel 9.
More than 90% of Australia's over-16 population is fully vaccinated, but some people still cannot travel interstate or globally because of current measures.
Many Australians had previously accused the government of allowing the rich and famous to do as they please while ordinary people remained separated from sick and dying loved ones.