Rep. Marjorie Taylor Greene Says She Regrets QAnon Posts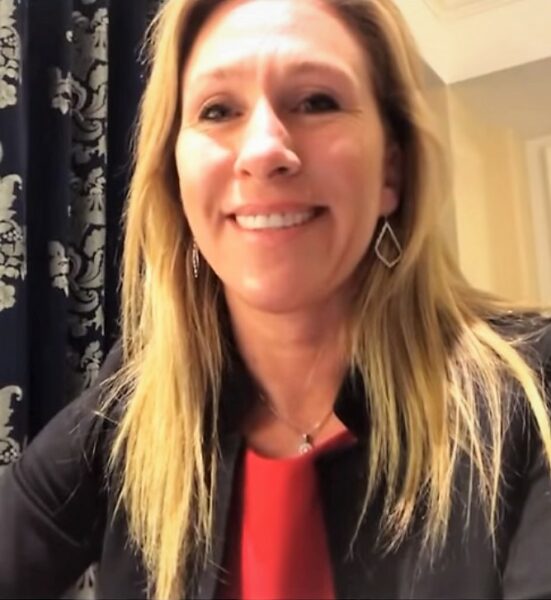 Rep. Marjorie Taylor Greene (R-GA) has expressed regret for past incendiary comments and support for the QAnon conspiracy claims.
Her comments at the House of Representatives come as lawmakers gather for a vote today on whether to strip her of committee assignments.
She said: "I was allowed to believe things that weren't true.
"And that is absolutely what I regret."
However, Marjorie Taylor Greene, 46, stopped short of an apology, and cast blame on the media.
She said: "The media is just as guilty as QAnon for promoting lies."
The Qanon conspiracy theory claims that former President Donald Trump was waging a clandestine war on a cabal of child-abusers.
Before taking office, Marjorie Taylor Greene liked posts calling for violence against Democratic lawmakers, claimed that school shootings and the 9/11 terror attack were staged events, and suggested Muslims should not serve in government, among other comments online.
Just hours before the Republican took to the floor, Democrat House Speaker Nancy Pelosi said she was "profoundly concerned" by Republicans' "acceptance of an extreme conspiracy theorist."
"If any of our members threatened the safety of other members, we'd be the first ones to take them off a committee," Nancy Pelosi said.
On February 4, Marjorie Taylor Greene sought to distance herself from some of these past remarks, saying they were made before she ran for office.
"I want to tell you 9/11 absolutely happened," she said.
"I do not believe that it's fake."
"These were words of the past. These things do not represent me," she said.
Marjorie Taylor Greene said she had been "upset about things" happening in the US and did not trust the government when she came upon conspiracy theories online in 2018.
However, she did not specifically apologize for past rhetoric widely seen as racist and anti-Semitic, or for comments suggesting support for violence against Democrats.
Marjorie Taylor Greene doubled down on other beliefs about abortion and immigration, expressing disgust at the "millions of Americans…murdered in the womb", and saying that her friends had had loved ones "murdered by illegal aliens".
Nancy Pelosi said the House would proceed with a vote on February 4 to expel Marjorie Taylor Greene from the education and budget committees.
The measure requires a simple majority to pass.
Committees assignments are typically the job of party leaders and are a vital channel for lawmakers to advance legislation. There's also the symbolic value: veteran lawmakers may be rewarded with a position on the more prestigious committees.
Republicans condemned Marjorie Taylor Greene's past comments but warned that Democrats were setting a dangerous precedent by sanctioning a lawmaker for things said and done before she entered Congress.