Joe Biden Raises Vaccination Goal to 1.5M a Day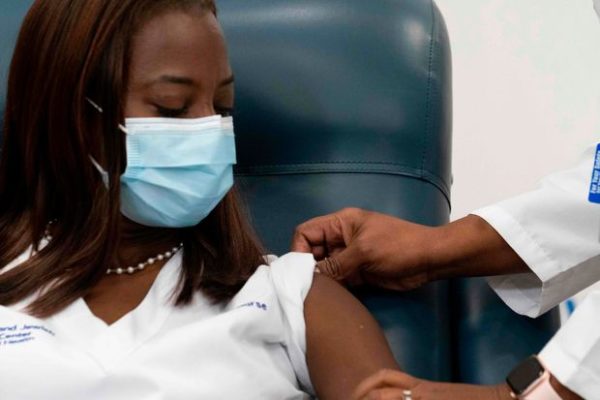 President Joe Biden has said he expects the United States will soon be able to vaccinate 1.5 million people a day after critics said his original goal was not bold enough.
The new president had announced last week that 1 million vaccines would be administered daily in the first 100 days of his presidency.
However, some media noted the US had already nearly reached that target under the Trump administration.
President Biden also renewed Trump-era Covid bans on January 25, adding South Africa.
In the first time formally taking reporters' questions during his presidency, President Biden said on January 25 that he hoped they would be able to get to 1.5 million vaccinations administered daily.
He said: "I think with the grace of God… we'll be able to get that to 1.5 million a day."
Adding: "I hope we'll be able to increase as we go along so we'll get to 1.5 million. That's my hope."
Some media had questioned whether President Biden's target of one million shots per day was ambitious enough.
Last week, at the tail-end of the Trump administration, the US had already reached an average of around 980,000 vaccine doses administered daily.
On January 25, the Biden administration renewed Trump-era Covid-19 travel bans on non-US visitors from Brazil and most of Europe, including the UK and Ireland.
The White House also imposed a new ban on South Africa over its virus variant.
Former President Donald Trump had ordered the bans to end on January 26 as one of his final acts in office.
The new travel restrictions came as Minnesota recorded the first US case of the Brazil variant from a resident who had recently travelled to that country.
The unnamed patient lives in the Minneapolis-Saint Paul area, said the department.
White House Press Secretary Jen Psaki confirmed the decision to continue the restrictions on foreign travelers on January 25.
All international travelers must also present a negative test within three days of air travel to the US.
Travel restrictions have been in place since mid-March.