Ted Cruz Flew to Mexico Amid Texas Deep Freeze Crisis
According to new reports, Texas Senator Ted Cruz flew to Mexico with his family amid a winter weather crisis that has left millions in his state without power.
In a statement on February 18, Senator Cruz said that he planned the trip for his daughters, "wanting to be a good dad".
Photos of the high profile Republican senator at an airport emerged on Twitter on February 17, fuelling reports that he had left Texas amid the energy crisis.
Texas has seen power and water outages due to the uncommonly cold weather.
Ted Cruz has drawn quick criticism for taking an international trip amid the weather emergency in his state.
Democratic Congresswoman Pramila Jayapal tweeted: "People in Texas are literally freezing to death and yet Ted Cruz went on vacation to Cancun."
In a written statement released on February 18, Ted Cruz described an "infuriating week for Texans".
With Texas schools closed, Senator Cruz said he booked the vacation for his young daughters who "asked to take a trip with friends".
He did not apologize for making the trip amid the state of emergency in Texas, but said that he and his staff "are in constant communication with state and local leaders to get to the bottom of what happened in Texas."
The Republican will be returning to Texas on February 18, according to his statement. It is not clear if his return flight was originally scheduled for February 18 or is a change in plans.
As a federal lawmaker, Ted Cruz does not have a direct role in Texas' emergency response, but residents often reach out to their elected officials – like Senator Cruz – during natural disasters for help accessing resources.
The Houston Police Department told CBS News that a member of Ted Cruz's staff contacted authorities on February 17 to request assistance upon Senator Cruz's arrival at Houston's international airport.
The senator arrived at the airport on February 17, Chief Art Acevedo said, and officers "monitored his movements through the terminal".
The senator's travel plans amid the crisis in Texas drew immediate criticism online.
Progressive rights activist Charlotte Clymer on Twitter: "Ted Cruz not only fled the state while millions of vulnerable Texans are without heat and water but specifically diverted police resources to get him through security and crowds faster for his outgoing vacation flight."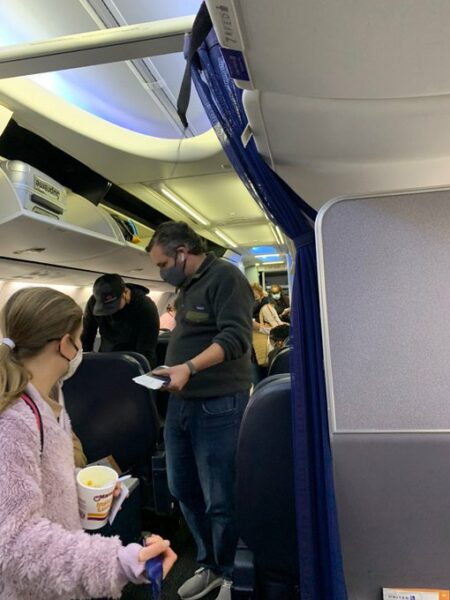 Journalist David Shuster shared a photo of a man who appears to be Ted Cruz boarding a plane, noting that millions of Texans "remain without electricity/water and are literally freezing".
He tweeted: "Just confirmed @SenTedCruz and his family flew to Cancun tonight for a few days at a resort they've visited before. Cruz seems to believe there isn't much for him to do in Texas for the millions of fellow Texans who remain without electricity/water and are literally freezing."
Others suggested the added scrutiny may hurt Ted Cruz as he reportedly contemplates a second presidential bid in 2024. Ted Cruz's current Senate term will expire in early 2025.
However, some conservatives came to Ted Cruz's defense – author and activist Brigitte Gabriel wrote: "Senator Ted Cruz is one of the hardest working men in the country, he deserves a vacation."
The news comes as hundreds of thousands of Ted Cruz's fellow Texans woke up to a fourth day without power, after extreme winter weather overwhelmed the state's energy grid.
At least 24 people have died amid the winter storms. Outages are expected to continue for days.
Texas officials have also ordered seven million people in the state to boil tap water before consuming it due to damaged infrastructure and pipes.
And with the sustained frigid temperatures, frozen pipes have caused a drop in water pressure in homes and hospitals.
Texas Governor Greg Abbott has now asked residents to shut off water to their home if possible to help keep pressure up.