NASA's Perseverance Rover Successfully Lands on Mars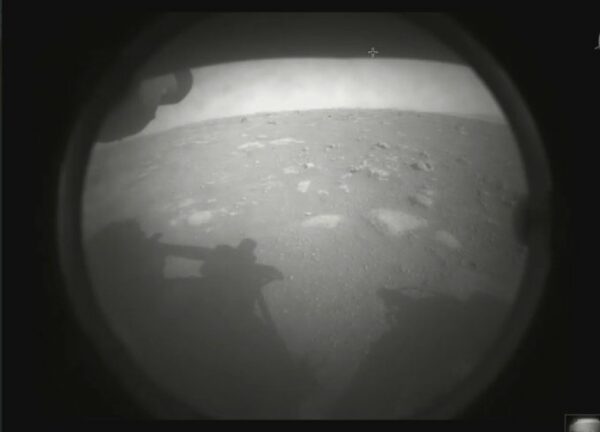 NASA's Perseverance rover has ended end of its seven-month journey from Earth.
The six-wheeled robot in a deep crater near the planet's equator called Jezero.
Engineers at NASA's mission control in California erupted with joy when confirmation of touchdown came through.
The robot will now spend at least the next two years drilling into the local rocks, looking for evidence of past life.
Jezero is thought to have held a giant lake billions of years ago. And where there's been water, there's the possibility there might also have been life.
It's got to put itself down safely on the Red Planet – a task that has befuddled so many spacecraft before it.
If Perseverance is successful, it has an amazing opportunity to find signs of past life on Mars.
Never has a science mission gone to the planet with so sophisticated a suite of instruments; never has a robot been targeted at so promising a location.
Jezero Crater bears all the hallmarks in satellite imagery of once having held a giant lake. And where there's been abundant water, perhaps there's been biology as well.
Perseverance will sift and drill into the sediments to look for traces of ancient microbial activity. The most propitious examples will be packaged for return to Earth by later missions.
Matt Wallace, NASA's deputy project manager for Perseverance, said: "But before we can get that surface mission going, we have to land on Mars and that is always a challenging feat.
"This is one of the most difficult maneuvers we do in the space business. Almost 50% of the spacecraft sent to the surface of Mars have failed, so we know we have our work cut out to get down safely at Jezero."
The signal alerting controllers that Perseverance was down and safe arrived at 20:55 GMT. In the past they might have hugged and high-fived but strict coronavirus protocols meant they had all been separated by perspex screens. A respectful fist bump was about all they could manage. The robot's protective capsule will do most of the work of scrubbing off the entry speed but a supersonic parachute and a rocket jetpack, or "Sky crane", will be needed for the last three minutes of braking and surface placement.
Of the 14 landing attempts at the planet, eight have been successful – all of them American. Indeed, NASA has only got it wrong once, way back in 1999.
Engineers will be following proceedings at mission control at the Jet Propulsion Laboratory in Pasadena, California.
Telemetry from the rover during its descent will be relayed by an overflying satellite – the Mars Reconnaissance Orbiter. The team will also be listening to a series of low-data tones coming back direct from the robot itself.