3 Simple Ways to Express Sympathy
When someone you care about loses someone they love, the feelings that the death can dredge up can be extremely difficult to manage and highly complex. You are likely to feel highly helpless, as the person you care about may be in a great deal of pain, leaving you feeling utterly helpless to help them. It's important to remember that you aren't supposed to be able to remove that individual's grief, only be there for them as best you can. As such, here are three easy ways to express sympathy to someone who lost someone.
Gift Baskets
If you feel compelled to buy something for this person who lost something, sympathy gift baskets from Hickory Farms may be the perfect present. After all, these gift baskets can be useful on many levels. These baskets can be customized to be more than just a thoughtful thought, as they can contain a variety of useful foods or presents that may be able to bring a smile to the face of someone who is in pain. However, more importantly, it is a gesture that shows you care. These gift baskets are high end presents designed to help someone in pain. It is an extremely thoughtful gesture, one that the individual in question is sure to appreciate.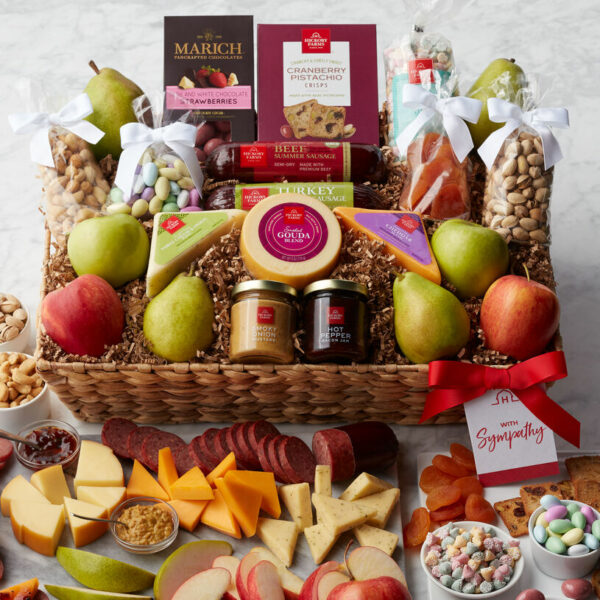 Get A Service
Someone who lost someone is likely to be overwhelmed by the array of newfound responsibilities in front of them. They now have to plan for a funeral, arrange for an estate to be disposed of, and embrace a whole new array of responsibilities that they had never previously used. That's why the nicest thing to do for the person you care about may also be the simplest: Get them a service that they can use. Arrange for a handyman to take care of any of their needs. Get a chef to cook them meals for a couple of weeks. Call a housekeeper and buy them a month's worth of visits. Just do something that will ease their burden and make their lives easier, particularly during the adjustment period, as they figure out how to live a new life.
Ask
Sometimes, the simplest thing to do is also the best. As you can, talk to the person who lost someone, and ask them a very simple question: What do they need? Or, more specifically, what do they need help with? They may reveal that they want everyone to go away and let them grieve in peace. They may also say that they have a few specific items that they need help with, like arranging the funeral home or disposing of the possessions of the deceased. Regardless, there's only one way to find out what they truly need: Ask them.
When someone you care about loses someone they love, it can be a nightmare. The best thing you can do is help that person by getting them something thoughtful or asking them how you can be most helpful.