Pope Emeritus Benedict XVI has died at the age of 95, almost a decade after he resigned because of ailing health.
Former Pope Benedict XVI led the Catholic Church for fewer than eight years until, in 2013, he became the first Pope to resign since Gregory XII in 1415.
He spent his final years at the Mater Ecclesiae monastery within the walls of the Vatican where he passed away at 09:34 on Saturday, December 31.
His successor Pope Francis will lead the funeral on January 5.
The Vatican said the body of the Pope Emeritus will be placed in St Peter's Basilica from January 2 for "the greeting of the faithful".
Bells rang out from Munich cathedral and a single bell was heard ringing from St Peter's Square in Rome after the former pope's death was announced.
Benedict XVI was already 78 when he became Pope in 2005. Age and ill health quickly took their toll, prompting his resignation less than eight years later.
No other pope had stepped down since Gregory XII in 1415 and Benedict was the first to do so voluntarily since Celestine V in 1294.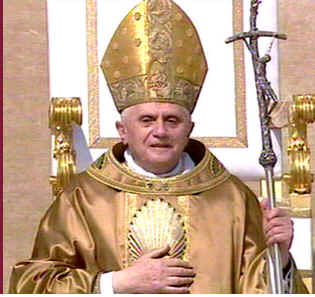 When he became 265th Pontiff of the Roman Catholic Church it was the culmination of the rapid, and highly controversial, rise of Joseph Ratzinger.
Supporters portrayed him as a highly intellectual man who laboured to protect the spiritual inheritance bequeathed to him by Pope John Paul II.
To his critics Benedict XVI was the ultimate exponent and guardian of the Church's dogmatic approach to issues like abortion and contraception. The outrage he sometimes caused seemed typical of a man who was never afraid of upsetting people – if he believed something had to be said or done.
Joseph Aloysius Ratzinger was born into a profoundly Catholic family on 16 April 1927, in the southern German state of Bavaria. He was the son of a police officer with, as he later put it, "simple country roots".
His youth was indelibly marked by World War Two. Forced to join the Hitler Youth, he served in an anti-aircraft unit which defended a BMW plant outside Munich.
Joseph Ratzinger became a prime candidate for rapid advancement and it was no surprise when his ideological soul-mate Pope Paul VI appointed him Archbishop of Munich, and then cardinal, in 1977.
The call to Rome was not long in coming. In 1981, Pope John Paul II appointed Ratzinger as prefect of the Vatican's office to protect the purity of Church theology – once known as the notorious Holy Inquisition.
Ratzinger had criticised the Congregation for the Doctrine of the Faith as "an all too smoothly functioning [body] which prejudged every question almost before it had come up for discussion".
But he took to his work with typically energetic enthusiasm.