Turkey and Syria Earthquake Death Toll Nears 8,000
Rescuers are desperately searching for survivors in southern Turkey and northern Syria after two huge earthquakes on February 6.
Nearly 8,000 people have lost their lives in Turkey and Syria following the earthquakes.
More than 7,800 people have been killed, but there are warnings the death toll could continue to surge. Thousands of buildings have been destroyed and among the buildings damaged by the earthquake is Gaziantep Castle.
As search efforts continue into a second freezing-cold night, time is running out for rescuers to find survivors under the rubble.
Relatives of victims who lived in collapsed buildings have joined frantic rescue efforts in one of the worst-hit Turkish cities, using pickaxes and crowbars.
Some anguished families have said rescue services took too long to respond in some areas.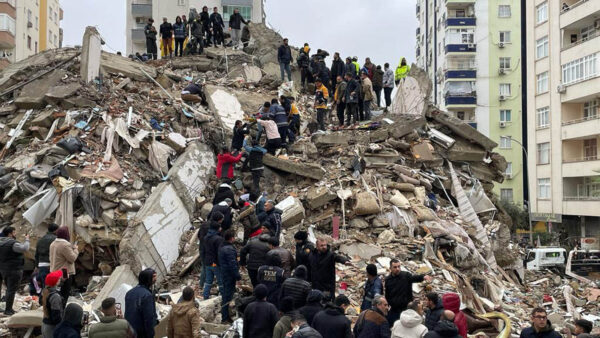 The first 7.8 magnitude quake struck near Gaziantep in the early hours of February 6, followed by a 7.5 magnitude tremor hours later.
The death toll from the devastating earthquake has now jumped to more than 7,800 people. A breakdown of the figures by AFP news agency says 5,894 people died in Turkey and at least 1,932 are reported dead in Syria.
The north-west region of Syria is home to millions of refugees displaced by civil war since 2011.
Control of the area is divided between the Syrian government, Kurdish-led forces and other rebel groups, hugely complicating the distribution of aid.
The United Nations says damage to roads is also hindering the aid effort.