Miami Building Collapse: At Least Four Killed and 159 Missing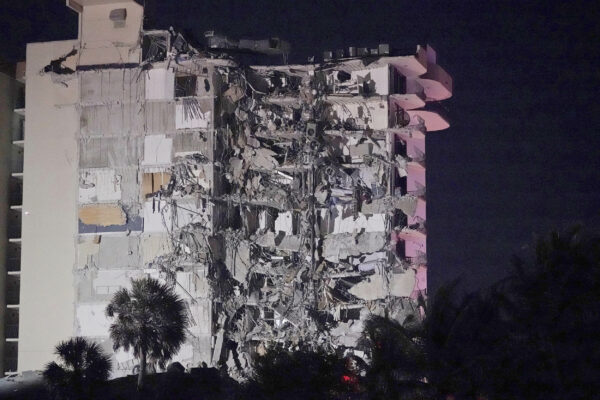 At least four have been killed and 159 are still missing after a12-storey residential building north of Miami.
Rescuers are desperately searching for any survivors trapped in the rubble.
As families desperately wait for news, search teams have been working around the clock and have reported hearing people banging beneath the debris.
What caused the 40-year-old building to collapse early on June 24 remains unclear.
At least 102 people have now been accounted for, but it is uncertain how many were in the building when it came down. Dozens of people have been evacuated from what is left of the structure.
President Joe Biden has approved an emergency declaration for Florida, meaning the Federal Emergency Management Agency (FEMA) will help state agencies with the relief effort.
Overnight hundreds of rescuers used sonar cameras and specially trained dogs as they scoured the rubble for survivors. Teams were tunneling from an underground car park below the building in an effort to reach victims.
The mayor of Surfside, where the disaster happened, Charles Burkett, said at an early-morning news conference that some 15 families had walked out of the building.
Most residents would have been asleep when the collapse happened at about 01:00 AM local time.
Overnight, search teams detected sounds of banging and other noises, but no voices coming from the tonnes of debris. Officials say the efforts are dangerous as further rubble could collapse on them.
Constant rain and storms are further complicating an already difficult task for the search-and-rescue teams.
Authorities have begun taking DNA samples from relatives of those missing in case only remains of their family members are found in the rubble.
Relatives of the missing have been huddled around a community centre a few blocks away, waiting for information and fearing the worst. They have been putting out appeals on social media for information that could help them find their loved ones.