Texas Cold: Residents Told to Boil Tap Water as Power Outages Continue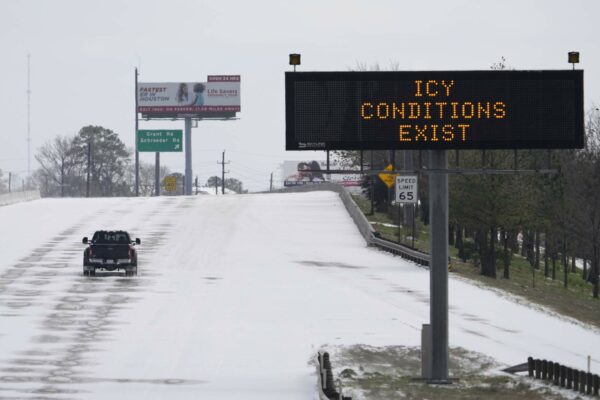 Texas residents have been told to boil tap water before consuming it after a deadly winter storm caused power blackouts at treatment facilities.
The huge storm sweeping across the southern US has killed at least 24 people and left millions without power.
Texas has seen widespread blackouts.
Freezing temperatures have also caused water pipes to burst, despite attempts by some homeowners to insulate them from the cold using blankets.
Texas energy grid has been overwhelmed by a surge in demand as people try to keep warm in some of the coldest temperatures there in more than 30 years – hitting 0F earlier this week.
President Joe Biden earlier approved a state of emergency for Texas, which has been blanketed by snow and ice since the storm swept in at the weekend.
A so-called "boil water notice" has been issued for the city of Houston and surrounding areas, affecting nearly 7 million people, with the CDC advising that all water planned for consumption – even if filtered – must be boiled as it may be contaminated.
Only boiled or bottled water should be used, including for brushing teeth, the CDC said.
Houston Mayor Sylvester Turner urged those without power – and unable to boil tap water – to try to access bottled water wherever possible.
He told reporters at a press conference: "Power will not be restored fully, I would say, probably for another couple of days."
Mayor Turner also urged people who had been leaving taps running to prevent pipes from freezing not to do so, in an effort to help conserve supplies.
He tweeted: "Water pressure is very low. Please do not run water to keep pipes from bursting. Turn off water if pipes have burst. Please contact us if you don't know how to turn off water. Be conservative on water usage today. It is needed for hospitals and fires. St"
Texas homes are not normally insulated for cold weather, meaning that indoor temperatures quickly plummeted after heating systems failed.
Mayor Turner said that businesses and churches were being used as "warming centers" to help shelter some of the most vulnerable, while also providing bottled water to residents.
"We are still in the midst of this winter storm," he warned, urging people to avoid the roads or travelling in the mornings and evenings, describing them as the "most dangerous times".
Texas Governor Greg Abbott said that 1.2 million Texans had so far had their power restored, with more coming "on board".