Basically, what the question boils down to is this: should your company fund its own devices for its employees to use, or should you let these workers use devices they already own? At first glance, the latter might seem the cheaper and more streamlined way of doing things, but the choice isn't quite that simple.
Implementing a BYOD – that stands for bring-your-own-device – strategy in your business can incur a range of costs that might not be manifested entirely clearly until much further down the line. That's why your firm needs to tread carefully when trying to decide whether it should really opt for the BYOD approach.
BYOD: a strategy that makes sense on paper
If your company's finances are under strain, as is surely the case for many businesses, you might not want to hesitate in enacting a BYOD policy. After all, according to research mentioned by Karen D Schwartz in an article on Samsung's website, 77% of Americans have a smartphone and constantly keep it with them.
However, the problems start when your company wants to keep a tight check on what goes onto those devices. In order to go ahead with that, your firm will need to install, onto each of the applicable mobile devices, the client for what is known as a mobile device management (MDM) platform.
Some of your employees could be reluctant to have such software installed on their phone, perhaps fearing what privacy implications could arise from their employer being able to monitor work activities they undertake on what are supposed to be predominantly personal devices.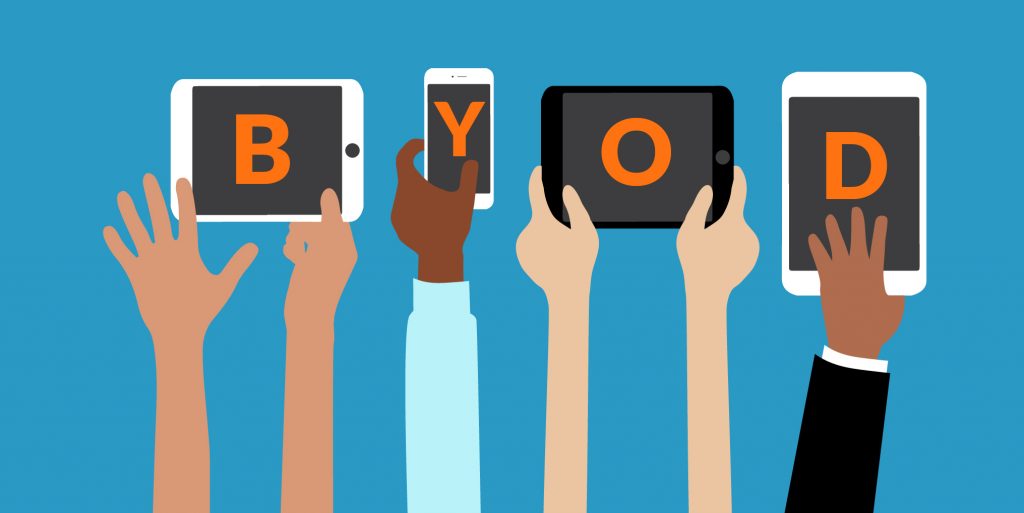 Would furnishing company-owned devices be a better alternative?
It would have obvious financial drawbacks, especially for smaller businesses that could be somewhat cash-strapped compared to their better-established competitors. In the long run, however, the tactic could help to pay for itself more effectively than keeping up a BYOD policy would.
Naturally, you would have to make room in your business budget for buying devices through the company. On the plus side, though, you could choose to buy multiple units of the same device model – and, in the process, make savings by capitalizing on the likes of negotiated discount rates and volume discounts.
Which choice would bode best for security?
This is a tricky question to answer confidently. On the one hand, many workers are likely to want to regularly upgrade to new devices of their own accord, as The Balance Careers implies. Therefore, you might not yourself have to put your staff under too much pressure to replace their devices in this way.
However, people might not always keep on top of security updates with their personal handsets as much as they would with company-owned devices, on which you could install enterprise mobility management (EMM) software to ensure that the latest security patches are added as they arrive.
All the same, though, your company could easily require either BYOD or company-owned devices to use Wandera's zero trust network access solution so that a wide array of work practices can be completed securely.