It isn't hard to find a company that could print you a beautiful poster. What you need to think about, therefore, is whether you need a printer at all, or whether you could find a different, more affordable option. It all depends on what your personal and specific wishes are. You could pay a lot of money and have a poster printed professionally, for instance. Alternatively, you can print just one document, asking it to be 'tiled'. If you do this on proper poster printer paper, you can then puzzle your pieces together to form a single poster.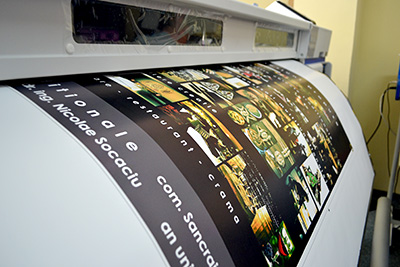 You can use various software tools that are in place specifically to help you properly enlarge a tile. These are designed to make sure you can print pieces of your document on individual pieces of standard A4 paper. Some even enable you to choose your paper sizes. Once you have it printed, you can stick the pieces together. This is a very low quality but very affordable way of printing a poster. However, it can take quite a bit of time to complete the poster, particularly if you want to hang up multiple ones.
If you have decided that a proper poster printer is necessary, it is likely that your price will be calculated based on their square foot of printing that you want to have completed. Volume is the important thing here. The more you print, the less you will be charged per square foot of printing as well. Make sure you ask your printer for a volume discount as well. They are usually more than happy to help you out with this. Before you start, however, you need to read and proofread your poster properly. Once you have done that, check it again. If the printer makes a mistake, you will be reimbursed for this. However, if you make the mistake, then you will be held responsible for it and you would also to pay for a rerun of your print. A poster with spelling mistakes on it is completely useless, as it doesn't advertise your services but rather, it makes you look very silly.
There are a few more little things you need to know in order to get the most out of your poster, whether you do it yourself or whether you have it printed. The most important thing is that people are usually about three feet away from a poster when they view it. This is why it is not a problem to spot some grain when you look at the poster up close. Very few people will actually study it that close and, if they do, it is because they know the graininess can happen.
A final thing to be aware of is that it is always a good idea to find a proper poster paper company. This is also because they generally offer many other types of services as well. This includes things such as business cards, flyers and other promotional materials.