As many as 20,000 people are feared to have died after a powerful stom triggered devastating flooding in eastern Libya, according to a local official.
The storm sweeping across Libya's Mediterranean coast dumped 400mm (16 inches) of rain on some areas in less than 24 hours, compared to the 1.5mm the country normally experiences in the whole of September.
This extraordinary deluge of water overwhelmed two key dams on the Wadi Derna river running through the city, destroying several key bridges as well.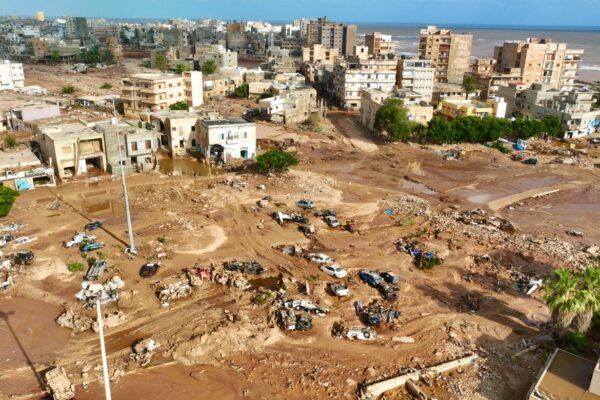 Image source: AP
In Derna, a city of around 100,000 people, two dams collapsed due to heavy rain, leading to a huge tsunami-like torrent sweeping through the city
Residents of the city, who had been ordered by the local authorities to stay in their homes, reported hearing a loud blast before the city was engulfed in water and said floods reached nearly 10ft in places.
The flooding was trigged by Storm Daniel which hit the north African nation on September 10 and brought heavy rain.
Libyan rescue teams are now being helped by international crews in the Derna area
Libya's rival governmentshave requested international aid and are liaising with each other
The mayor of port city Derna told Saudi TV News station Al Arabiya he estimated 18,000 to 20,000 died when two dams burst, releasing a tsunami of water as people slept.
His figures are based on the number of communities destroyed by the flood water, he told the channel.
Unrecovered bodies remain under rubble or in the sea, increasing the risk of disease.
The UN has warned of the danger of disease from contaminated water in Libya.
The organization currently has people on the ground in Derna and is directing its existing stockpiles of food in the country to the area.
Libya has been split between rival governments in the east and west for around a decade.
The country was under foreign control for centuries until it gained independence in 1951 and came under the control of dictator Colonel Muammar Gaddafi in 1969.
He ruled autocratically until he was toppled and killed in 2011 – in a rebellion assisted by Western military intervention.
In 2014, renewed fighting broke out, with Libya split between two administrations – one based in the east, and one in the west in the capital Tripoli. The two sides signed a ceasefire in 2020 but political rivalries continue.
In 2021, a Government of National Unity was formed in Tripoli with Abdul Hamid Dbeibeh as the internationally-recognised prime minister, but the following year the eastern-based parliament formed a rival – and rather similarly named – Government of National Stability.