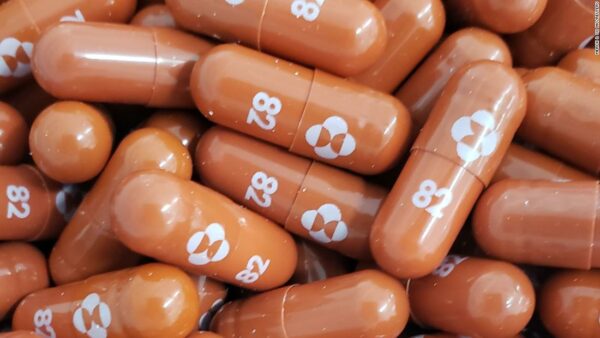 Molnupiravir, an experimental drug for severe Covid developed by Merck, cuts the risk of hospitalization or death by about half, interim clinical trial results suggest.
The tablet was given twice a day to patients recently diagnosed with the disease.
Merck said its results were so positive that outside monitors had asked to stop the trial early.
The drug-maker said it would apply for emergency use authorization for the drug in the US in the next two weeks.
Dr Anthony Fauci, chief medical adviser to President Joe Biden, said the results were "very good news", but urged caution until theFood and Drug Administration (FDA) had reviewed the data.
If authorized by regulators, molnupiravir would be the first oral antiviral medication for Covid-19.
Molnupiravir, which was originally developed to treat influenza, is designed to introduce errors into the genetic code of the virus, preventing it from spreading in the body.
An analysis of 775 patients in the study found:
7.3% of those given molnupiravir were hospitalized
that compares with 14.1% of patients who were given a placebo or dummy pill
there were no deaths in the molnupiravir group, but eight patients who were given a placebo in the trial later died of Covid
The data was published in a press release and has not yet been peer-reviewed.
Unlike most Covid vaccines, which target the spike protein on the outside of the virus, the treatment works by targeting an enzyme the virus uses to make copies of itself.
Merck said that should make it equally effective against new variants of the virus as it evolves in the future.
Trial results suggest molnupiravir needs to be taken early after symptoms develop to have an effect. An earlier study in patients who had already been hospitalized with severe Covid was halted after disappointing results.
Merck is the first company to report trial results of a pill to treat Covid, but other companies are working on similar treatments. Its US rival Pfizer has recently started late-stage trials of two different antiviral tablets, while Swiss company Roche is working on a similar medication.
The company has said it expects to produce 10 million courses of molnupiravir by the end of 2021. The US government has already agreed to buy $1.2 billion worth of the drug if it receives approval from the regulatory body, the FDA.
Merck said it is in ongoing discussion with other countries and has also agreed licensing deals with a number of generic manufacturers to supply the treatment to low and middle-income countries.