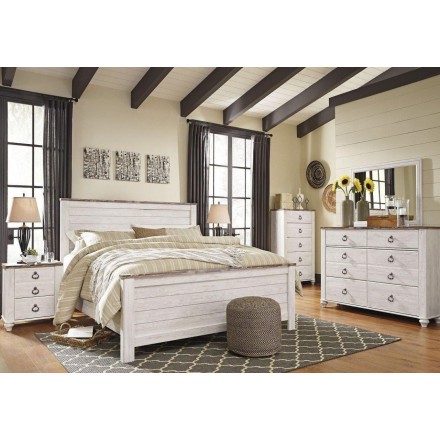 Shopping online can be intimidating, especially if you're looking for furniture. There are tons of horror stories that exist when it comes to bad furniture purchases. You may have one of your own that has stopped you from buying online. However, with the busy lives we all lead, wouldn't it be great if there was an online store you could trust? Well, 1Stop Bedrooms is that store.
Shopping online will give you options you won't get from a retail location. One of the more obvious is you can browse free of pressure. There is no salesperson following you around trying to rush you into making a decision. Online, you can read the specifications, features, and reviews. Take your time and compare sets before making a purchase. This kind of transparency allows you to make a well-informed decision.
The low-cost guarantee ensures there is a set for every budget. With up to thirty-six months of financing available, as well as free shipping on every order, you won't find a better deal.
Search the brand name manufacturers and find a quality set for every room. Start with your living room since it's a high-traffic area. There are leather and fabric sets to provide comfortable seating for you and your guests. If you don't have a guest room, pick up a sleeper sofa for visitors.
Another space that serves many purposes is the dining area. There are dining sets of all sizes and in different shapes. Whether you want round, square, or rectangular, there's a table that's just right for you. Add personality to the set with a dining bench and fill any space with a cabinet or sideboard that complements the pieces.
Take a look at the complete bedroom sets that come in every style. There's glam, French, contemporary, and more to choose from. Polish the look with comforters, pillows, and other accessories that show off your creativity.
Add pieces that meet your lifestyle needs. If you use make-up or want a dedicated space to refresh your look, a bedroom vanity has great storage and surface space for your items. Armoires and chests provide additional storage for your garments. Jewelry armoires are an attractive option to keep your valuables safely tucked away.
Think about how you plan to use the other spaces in your home. Do you want a game room? If so, you'll find game tables and sets that will provide hours of entertainment for your friends. Do you enjoy playing bartender from time to time? Then sort through the bar and wine cabinets for pieces designed for any space. Is there a home office? Then take a look at the desks, bookcases, filing cabinets, and other accessories that add to the room's purpose.
1Stop is the only stop you have to make for your home furniture. You'll find brand-name furniture for every room at sale prices that the competition will not beat. When your friends ask where you bought your new sets, you can brag, "I bought it here".