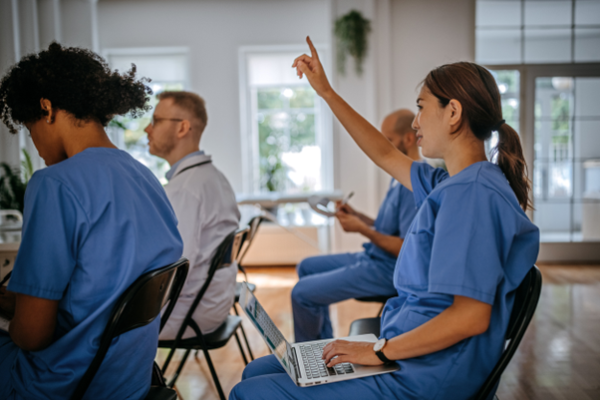 Learning the theory and skills needed to become a qualified, licensed nurse can be a fascinating process. As a nursing student, you will learn how to handle the many situations you may encounter in your practical work. How can nurses seamlessly transfer their clinical learning to acute medical situations where quick thinking and a cool head are essential for the best outcome for the patient? This question is especially relevant for newly qualified nurses with limited clinical experience.
Here is a look at the ways in which newly qualified nurses can match their learning to the various situations they may encounter as part of their role. We'll also explore how you can qualify as a nurse in less time than you think so you can get started with a satisfying career helping patients in need.
Clinical learning in practice
Qualifying as a nurse involves taking in a significant amount of information and knowledge, in addition to learning how to carry out practical clinical skills. In fact, it's the successful application of this learning to medical scenarios, which can sometimes be acute or urgent in nature, that makes a great nursing professional. This may sound like a challenging task, but there are many ways newly qualified nurses can prepare to achieve this aim. Here is a look at some of them.
Simulation learning
Many nursing programs include simulation learning. Just as its name suggests, it involves using simulated scenarios that employ a broad range of tools and techniques. These include using realistic mannequins that allow student nurses to practice techniques such as drawing blood, measuring vital signs and performing emergency procedures such as cardiopulmonary resuscitation (CPR).
Simulation may also include role playing, with actors posing as patients or genuine patient volunteers with real medical issues. It's a safe and effective way for students and newly qualified nurses to test their learning and skills in a staged acute setting. The fact that these scenarios are not real means that nurses can gain confidence in using their skills in a supported environment.
Residencies
Residencies are a valuable way for student nurses to learn on the job. Many nursing programs consider these experiences an essential component of learning for their students. A typical residency may involve a short, intensive period of instruction on campus, which offers a combination of theoretical learning, practicing skills in a simulation lab, and direct patient care under supervision. This experience gives newly qualified nurses the confidence to practice their skills in their first role, which means they can start their careers in the right way with the experience they need.
Clinical rotations
Clinical rotations are placements in healthcare settings that allow student nurses to apply the skills learned in lectures to real-life scenarios, preparing candidates for their first role in nursing. These rotations may take place in a variety of specialties, such as in acute care or surgical settings.
Although student nurses are closely supervised, these clinical rotation placements offer plenty of opportunities for them to offer direct patient care and put what they have learned into practice.
Teaching hospital rounds
Teaching hospital rounds offered to students and newly qualified nurses is another way in which they can learn how to translate theory to practice in a supported environment.
Here, a senior member of staff leads a discussion about each patient in the ward, with the healthcare team members looking after them. It's a chance for nurses to offer their input and update other team members on patients' progress. This valuable experience not only helps newly qualified nurses plan and practice patient care in a supported environment but is also a lesson in teamwork and communication.
How to switch careers
A great place to start looking for the perfect course is to check out which online nursing degree programs in Missouri you can enroll in. They are designed to give you the flexibility you need to study while managing other commitments in your life. Rockhurst University offers one such program, the Hybrid Accelerated Bachelor of Science in Nursing (ABSN). It is open to students from a selection of authorized states who have a bachelor's degree in any field and are eager to start a rewarding career as a nurse. Coursework is delivered 100% online, while students also learn practical skills during a 10-day on-campus residency. In addition to this valuable opportunity, students are supported in finding clinical placements to complement their learning. After 16 months of full-time learning, students will be prepared for the NCLEX exam and can start a rewarding career as a nurse.
What qualifications do you need?
If the idea of applying practical learning to acute, real-life medical scenarios appeals to you, you may be interested in training to become a nurse.
First, you'll need to undertake an accredited program of study, such as a nursing diploma, an associate's degree in nursing (ADN) or a bachelor's degree in nursing (BDN). This will lay the foundation for the knowledge and skills you will need as a competent nurse.
You will also need to earn your license by passing the National Council Licensure Examination (NCLEX). This enables you to gain employment and practice as a nurse. If you already have a bachelor's degree in another field, you can take advantage of accelerated programs that allow you to qualify in a short time frame.
If you're currently working in an unfulfilling job and looking to switch careers, you may also be looking for the most convenient way to study. That's where online nursing programs come in, allowing you to study at a time and in a place that suits you.
Learning tailored just for you
Putting the theory and skills learned while you've been studying to become a nurse into practice may sound daunting at first, but rest assured that during your program of study and as a newly qualified nurse, you will receive plenty of support to help you gain confidence.
If you are considering switching careers to nursing, there is an effective path for you to learn new skills and apply them to real-life, acute medical scenarios. An Accelerated Bachelor of Science in Nursing could be just what you're looking for, especially if it is flexible, online and tailored just for you.