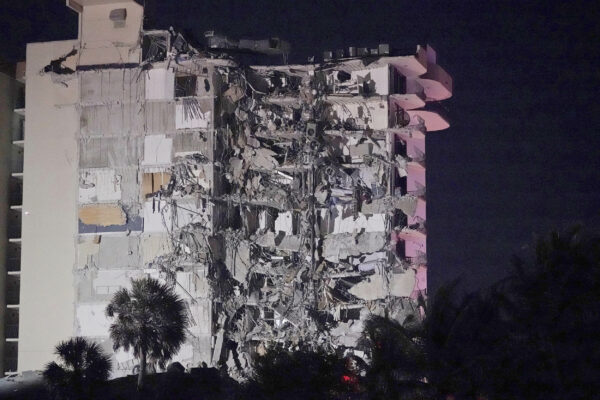 A 12-story residential building partially collapsed, killing at least one person in Miami, Dade County, Florida.
Rescuers are combing the rubble, searching for any trapped survivors, and were seen pulling a boy out alive.
Images from Surfside, north of Miami Beach, show a pile of debris on one side of the building. At least eight people have been injured.
The collapse is said to have occurred at about 02:00 local time.
It is unclear how many people were inside the building at the time.
Fifty-one people believed to have been living in the building have not been contacted and are as yet unaccounted for, said County Commissioner José Díaz.
Miami-Dade Fire Rescue said it had sent 80 vehicles to the scene. Police are also assisting with the rescue operation.
Rescuers pulled 35 people from the wreckage, officials said. Ten were assessed and treated, of whom two were sent to hospital.
"The back of the building, probably a third or more, is totally pancaked," Surfside Mayor Charles Burkett told a news conference. At least one person had died, and about 30 units were affected, he said.
Florida Governor Ron DeSantis said he would travel to South Florida on June 24.
"We are bracing for some bad news just given the destruction that we're seeing," he warned, saying he thought the quick response from the emergency services had saved lives.
Police gave the building's location as 8777 Collins Avenue, the address of the 12-story Champlain Towers, which contains more than 100 beachfront apartments and was built in 1981. Surfside runs along Collins Avenue, north of Miami Beach city limits.