The Top Dos and Don'ts of Hosting a Bachelorette Party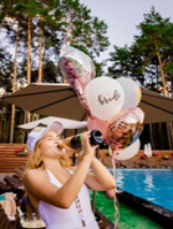 Whether it's an intimate gathering or an extravagant weekend getaway, hosting a bachelorette party can be as exhilarating as it is challenging. This celebration serves as the bride-to-be's final hoorah before tying the knot, and as the host, it's your task to create an event that will be remembered for all the right reasons for the bride, herself, as well as all the guests of the shindig.
This article explores a few dos and don'ts that can help you navigate the bachelorette party planning process so you get the best results possible.
Dos
Do: Consult the Bride
This is something many people get wrong. While bachelorette surprises can be fun, it's also crucial to consider the bride's preferences for her bachelorette party before you get too far down the planning path. This special event should be tailored to the bride's taste and comfort level rather than anyone else's. As such, whether it's a spa day, a weekend in Vegas, or a quiet dinner at her favorite restaurant, it's best to choose a style of party that suits the vibe the bride is looking for.
Do: Plan Ahead
Of course, good planning is key to a successful event, and a bachelorette is no different. As soon as you know the party date (this is definitely a detail to confirm with the bride first!), start booking reservations, purchasing supplies, and sending out invitations. If the party involves travel, remind guests to arrange transportation and accommodations well in advance, or you can take care of that, too, and have everyone pitch in to cover costs before the event day arrives.
Do: Set a Budget
Another tip is to be clear about the budget from the start. Inform guests about the cost as soon as possible, and try to keep it reasonable to ensure everyone can comfortably participate. Consider costs for food, drinks, decorations, activities, and potential unexpected expenses when putting your budget together.
Do: Arrange for Entertainment
A good bachelorette party requires engaging entertainment. This could range from hiring a DJ or live band, playing party games, booking a dance class, bringing in tarot readers, or arranging a spa day for all the attendees to be pampered at.
You might even consider arranging a fireworks display for a touch of spectacle at the event. If so, remember to hire professionals to ensure a safe and spectacular show or get assistance from those you know who have created their own show at a private event before. You'll want to ensure you purchase a variety of quality mortar fireworks and other products and that you can legally and safely let them off in the area where you plan to celebrate the bachelorette as a group.
Do: Keep Everyone Involved
Ensure all guests are involved and feel included in the activities. Plan games or icebreakers to help everyone mingle, especially if many guests don't know each other well. It often helps to give everyone name tags for the event, or at least for the first component of it.
Do: Have a Plan B
Even the most meticulously planned events can encounter unexpected hiccups — inclement weather, a canceled reservation, or an unforeseen circumstance with the guest of honor herself. That's why having a Plan B is essential. This doesn't mean you need an entirely different party planned, but having some flexibility in your itinerary and a few backup options can save the day.
For instance, if you're planning an outdoor activity, have an indoor one on standby in case of bad weather. If the party involves a firework display, have an alternative form of entertainment ready in case local regulations or other unforeseen issues prevent the show. Remember, adaptability is key to ensuring a successful and stress-free bachelorette party.
Don'ts
Don't: Forget About Logistics
Even the best-planned party can fall apart if logistics are overlooked. Consider transportation, accommodations, and scheduling, ensuring that everything runs smoothly. If drinking is involved, arrange for designated drivers or rideshares.
Don't: Overbook the Schedule
While having a lineup of fun activities is great, don't jam-pack the schedule. Guests should have time to relax, chat, and savor the moment. This is especially crucial if the celebration spans an entire weekend.
Don't: Neglect Food and Drinks
Always provide enough food and drinks for your guests. If the event will last several hours, consider arranging for meals or at least a few snack breaks. For drinks, try to cater to everyone's preferences and provide non-alcoholic options in addition to alcoholic beverages.
Don't: Disregard Safety
If your bachelorette party involves potentially risky activities (like fireworks or adventurous sports), safety should be your top priority. Hire professionals when necessary and ensure the activities are legal and safe. If drinking is involved, make sure everyone gets home safely.
Don't: Stress Out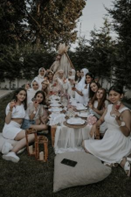 Lastly, while planning a bachelorette party can be stressful, remember that it's supposed to be fun! The bride-to-be has entrusted you with organizing her last big celebration as a single woman. Enjoy the process and make beautiful memories together.
Remember, there's no one-size-fits-all blueprint for the perfect bachelorette party. It's about celebrating friendship and marking an important milestone in the bride's life. As long as everyone's having fun and the bride-to-be is happy, you're guaranteed to host a successful bachelorette party.