Coronation: King Charles III and Queen Camilla Crowned in Britain's Biggest Ceremonial Event in 70 Years
King Charles III and Queen Camilla have been crowned in Britain's biggest ceremonial event for seven decades.
Thousands packed in front of Buckingham Palace despite the rain, after a deeply religious Coronation service at Westminster Abbey and a huge procession through London.
The King and Queen waved from the Palace balcony as the RAF Red Arrows painted the sky red, white and blue.
According to media, the Duke of Sussex was not invited to join them.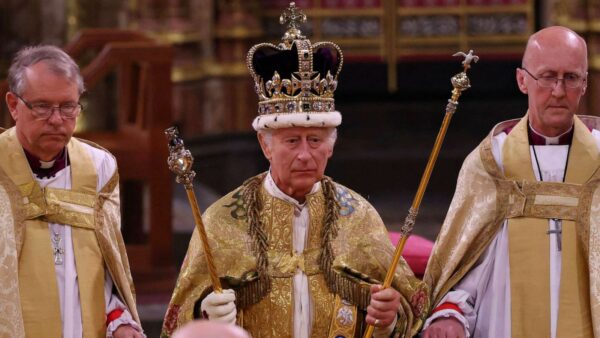 Image source: Getty Images
Prince Harry had been at the ceremony in Westminster Abbey earlier, sitting two rows back from his brother Prince William – the first time they had been seen together since Harry's sensational memoir, Spare, was released. The duke left for the US straight afterwards.
The coronation day began shortly after 10:00 AM, local time, with the procession to Westminster Abbey in the horse-drawn Diamond Jubilee State Coach, past cheering crowds and an honour guard of 1,000 members of the armed forces.
Faith leaders and commonwealth leaders began the processions, with the King and Queen following behind.
The two-hour ceremony – the first to crown a monarch in 70 years – was watched on TV around the world, as well as some 2,300 people inside the abbey.
After the crown was placed on Charles's head cries of "God Save the King" were heard inside and outside, and gun salutes were made across the UK.
Celebrity guests were among those inside Westminster Abbey – including Emma Thompson and Katy Perry.
First Lady Jill Biden and her granddaughter Finnegan arrived in a three-car motorcade, although President Biden did not travel to the UK. French President Emmanuel Macron and First Lady of Ukraine Olena Zelenska were also in the abbey, as were UK's PM Rishi Sunak and leaders of the Commonwealth countries.
In all, 90 heads of state attended, the Foreign Office said.
Charles was proclaimed as the "undoubted King" in the first stage of the ceremony. The congregation was then asked to show their homage and service, shouting "God Save the King".
Traditions rarely seen elsewhere in modern life were maintained – such as the inclusion of the orb and sceptre and the carrying of the gilded Sword of State.Prince William also made a pledge of loyalty to King Charles, and kissed him on the cheek, before members of the congregation were invited to offer their own support.
Returning to the Palace, it was a spectacle of pomp and pageantry as the newly crowned King and Queen travelled up The Mall in the Gold State Coach flanked by thousands of servicemen and women.
In total, 4,000 armed forces personnel and 19 military bands took part – making it the biggest state occasion since the coronation of Queen Elizabeth II in 1953.