Donald Trump Indictment: Former President Expected to Turn Himself In
Former President Donald Trump is expected to fly from Florida on his private plane and hand himself in with federal agents there after a grand jury has indicted him in connection with a $130,000 pay-out to adult film star Stormy Daniels.
According to CBS News, Donald Trump's court hearing has been set for April 4, in the afternoon.
The charges are not yet public, and a lawyer for Donald Trump said on March 31 that he too has yet to read the indictment.
A law enforcement official told CBS that Donald Trump is expected to fly his private plane to New York on April 3 before surrendering to officials on April 4.
The process is likely to involve dozens or possibly hundreds of Secret Service agents, the official added, speaking on condition of anonymity.
Donald Trump will not be handcuffed, the official added, saying that shackles are typically only used on suspects who are thought to be a flight or safety risk.
The hearing is due to take place at 14:15 local time.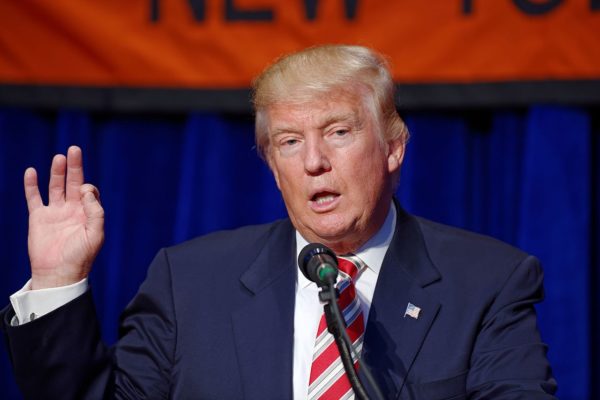 Donald Trump's lawyer, Joe Tacopina, told ABC News that the former president will "probably" appear in court on April 4, "but nothing is certain".
Prosecutors "will try and get every ounce of publicity they can from this thing", he said, adding "the president will not be put in handcuffs".
"I understand they're going to be closing off blocks around the courthouse, shutting down the courthouse," he continued.
Security is being co-ordinated by the FBI, NYPD, Secret Service and New York City court officers.
Sources tell CBS that they are bracing for possible scenarios that include attacks against Donald Trump, prosecutors, jurors or members of the public. The district attorney's office has received "many threats", the sources said.
On March 31, the streets around the courthouse were calm but the barricades were going up in anticipation of what may come next week.
Police officers were on patrol and security plans were being put into place. Many expect the area to go into lockdown when the former president attends court.
The district attorney's office had initially asked Donald Trump to surrender on March 31, according to Politico, but the request was rejected because more time was needed for security preparations.
The 76-year-old ex-president denies any wrongdoing. He is the first serving or former US president to face a criminal charge.
It is unclear how many charges are contained in the indictment, which is still sealed.
Media reports have said the ex-president faces more than 30 counts related to business fraud and Joe Tacopina said on March 30 he thought there would be 34. However, on the next day he said he did not know how many.
"We know what the subject matter is, we know the basis of the charges. We don't know the exact counts or how they're formulated," he said.
On March 31, Donald Trump began attacking the judge assigned to his case in an effort to undermine the credibility of the investigation and rally his base to his defence.
Republicans – including House Speaker Kevin McCarthy – have accused the Manhattan district attorney of weaponizing the criminal justice system to influence next year's presidential election. Georgia Congresswoman Marjorie Taylor Green, who Donald Trump recently suggested should run for Senate, called on followers to protest and said she plans to be present in New York next week.
In response, Manhattan District Attorney Alvin Bragg said the charges had been brought by citizens of New York doing their civic duty – and neither the former president nor Congress could interfere with proceedings.
In Washington, the US Capitol Police, which are tasked with safeguarding lawmakers in Congress, said the force believes protests will take place across the country and have plans in place to increase security at the US Capitol.
In 2016, Stormy Daniels contacted media outlets offering to sell her account of what she said was an adulterous affair she had with Donald Trump in 2006 – the year after he married his current wife, Melania.
Donald Trump's team got wind of this and his lawyer, Michael Cohen, paid $130,000 to Stormy Daniels to keep quiet. This is not illegal.
However, when Donald Trump reimbursed Michael Cohen, the record for the payment says it was for legal fees. Prosecutors say this amounts to Donald Trump falsifying business records, which is a misdemeanour – a criminal offence – in New York.
President Joe Biden declined to comment on the indictment, despite being pressed on the issue by journalists as he left the White House on a trip to Mississippi.