Turkey and Syria Earthquake Death Toll Surpasses 28,000
The death toll in Turkey and Syria from the quake has surpassed 28,000, and hope of finding many more survivors is fading despite some miraculous rescues.
German rescuers and the Austrian army paused search operations on February 11, citing clashes between unnamed groups.
Security is expected to worsen as food supplies dwindle, one rescuer said.
And nearly 50 people have been arrested for looting, with several guns seized, local media reported.
Turkey's President Recep Tayyip Erdogan said he would use emergency powers to punish anyone breaking the law.
An Austrian army spokesperson said that clashes between unidentified groups in the Hatay province had left dozens of personnel from the Austrian Forces Disaster Relief Unit seeking shelter in a base camp with other international organisations.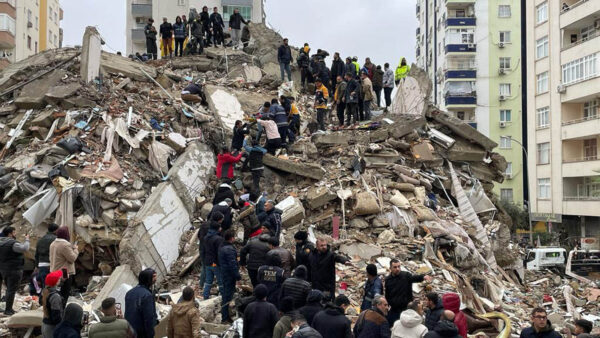 Hours after Austria paused its rescue efforts, the country's ministry of defense said that the Turkish army had stepped in to offer protection, allowing the rescue operations to resume.
The German branch of the search and rescue group ISAR and Germany's Federal Agency for Technical Relief (TSW) also suspended operations, citing security concerns.
The Vice President of Turkey, Fuat Oktay announced on February 11 the death toll in Turkey has risen to 24,617.
While President Erdogan hasn't commented on the reported unrest in Hatay, he did reiterate that the government would take action against those involved in crimes in the region.
"We've declared a state of emergency," he said during a visit to the disaster zone today.
"It means that, from now on, the people who are involved in looting or kidnapping should know that the state's firm hand is on their backs."
State media reported that 48 people had been arrested for looting, according to AFP. Turkish state media reported several guns were seized, along with cash, jewellery and bank cards.
Turkish police have also reportedly detained 12 people over collapsed buildings in the provinces of Gaziantep and Sanliurfa. They included contractors, according to the DHA news agency.
At least 6,000 buildings collapsed in Turkey, raising questions about if the large-scale tragedy could have been avoided and whether President Recep Tayyip Erdogan's government could have done more to save lives.
With elections looming, the president's future is on the line after spending 20 years in power and his pleas for national unity going unheeded.
President Erdogan has admitted shortcomings in the response, but he appeared to blame fate on a visit to one disaster zone: "Such things have always happened. It's part of destiny's plan."
The death toll in Syria from the earthquake now stands at more than 3,500, according to AFP – but new figures have not been publishes since February 10.
There has been criticism that the international effort to send aid to Syria has not been fast enough.
Sivanka Dhanapala, the Syria representative of the UN High Commissioner for Refugees (UNHCR), told AlJazeera that as many 5.3 million Syrians may be homeless following the quake.