Happy New Year! 2023 Welcomed Around the World
Happy New Year to Kuala Lumpur, Manila, Shanghai, Singapore, Beijing, Hong Kong, Taipei and Perth!
As the new year sweeps across the globe, 2023 is now being welcomed in Asia.
The South Korean capital of Seoul the latest city to celebrate.
Darwin, the capital of Australia's Northern Territory, which has just entered 2023, saw its official New Year's Eve fireworks display cancelled due to severe winds and rain across the region.
2022 has been quite a year, and now it's time to welcome a brand new one; we'll guide you through the day as 2023 is marked around the globe
Among the first places to see in the new year was Kiritimati Island in the central Pacific Ocean.
Auckland in New Zealand became the first major city to start celebrations welcoming in 2023, with fireworks launched from the city's Sky Tower
Sydney has also entered the new year, the city's fireworks launched from its Harbour Bridge, Opera House and barges in its famous harbour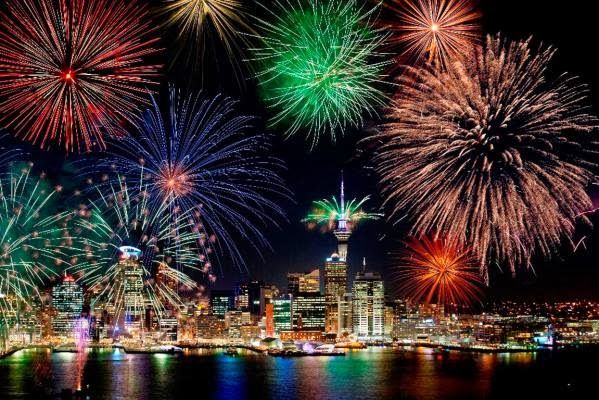 Happy New Year to those of you living in Queensland, Australia.
Brisbane and the Gold Coast have becomes the latest cities to welcome in 2023.
New York's Times Square is set to reach full capacity for the first time in two years when crowds gather to watch the annual ball drop on New Year's Eve later today.
The event is one of many new year festivities across the globe to be scaled back in 2020 and 2021 due to the pandemic.
Revellers were allowed to attend last year's celebrations but crowd numbers were limited to 15,000.
Attendees had to show proof of full vaccination or a negative Covid test if exempt. In 2020, it was closed to spectators but a small number of health workers were allowed into the square for the event.
The spectacle will go ahead this year without any restrictions.
The ball, made up of nearly 2,700 Waterford crystals, will be placed at the top of the pole in Times Square just before 18:00 EST.
The drop, will begin at a minute to midnight and takes exactly 60 seconds.Replacements for the ball's crystal panels have been made by hand by Irish craftsmen at Waterford Crystal.
Each year a new theme is chosen and this year's theme is the "Gift of Love".
Happy New Year!