5 Tips to Maintain Your Home Appliances in Good Condition
Appliance purchases require substantial investments. To protect their appliances, homeowners need to know how to maintain them. Learning about maintenance and when it becomes necessary will help owners ensure their devices last for many years.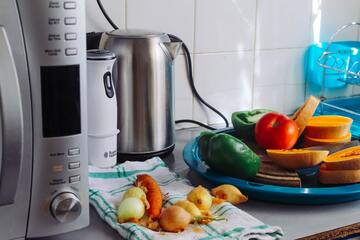 5 Essential Appliance Maintenance Tips
Appliance breakdowns are stressful and can happen at the most inconvenient times. Homeowners can learn more at 2-10 HBW. With the following maintenance tips, repair issues and functional concerns are less likely to occur. 
1. Servicing appliances regularly will help keep them working effectively and efficiently. Hiring a professional to inspect the appliances and perform maintenance will help ensure there are no minor repair issues that could impede the function of the device. With regular maintenance, appliances work better and are safer to use.
2. Keeping appliances clean is also essential for maintenance. Dust and debris can build up on the components of appliances and stop them from working effectively. For instance, refrigerators need coil cleaning to prevent restricted airflow and overheating. 
3. Owners need to ensure they are not overloading the performance limits of their appliances. No one should cram too much laundry into their washing machines or keep their ovens heated at the highest temperature for long periods. Always follow the manufacturer's instructions for operation.
4. Many people do not realize appliances can degrade because of the hard minerals in their water. Too many minerals will cause corrosion in water-using appliances like washing machines and dishwashers. Softening the home's water supply will help owners protect their investments.
5. Owners should avoid DIY fixes when repair issues arise. Without proper training and the right tools and equipment, owners will find they can reduce the lifespan of appliances and cause harm. Relying on professionals will help ensure appliances are repaired correctly. 
Purchasing a Warranty Offers Sound Protection
Unfortunately, appliances can break down at any time. Purchasing an extended warranty on appliances helps owners in many ways. The following offers information on some of the benefits.
One of the most significant benefits of purchasing an extended warranty is peace of mind. When owners know their appliances are covered in case of breakdowns, they are less likely to worry.
These warranties offer customizable coverage to meet the needs of owners. The coverage for warranties is often renewable, depending on the provider and appliance.
With a warranty, homeowners will find their appliances receive repair services from certified repair technicians who are experts in their fields. The repair technicians will come out promptly and take care of any repair problems.
Extended warranties offer upfront pricing so owners can plan for the costs accordingly. Most policies provide locked-in pricing for the life of the contract.
Discover Further Information
The above tips are crucial for keeping appliances working properly. While it takes a concerted effort to maintain appliances, taking these steps will help ensure an owner does not have to worry about expensive breakdown issues.
In addition to the above, owners should consider purchasing an extended warranty for their appliances. These warranties are affordable and offer extensive protection to a home and its appliances.
Choosing the right warranty is essential for obtaining proper protection. Researching the options and taking the time to learn about the coverage will help homeowners choose wisely. With an extended warranty and regular maintenance, owners will not have to worry about appliance issues that can create stress.