Rayan: Moroccan Boy Retrieved from Well, But His Condition Is Unclear
Moroccan rescuers retrieved a 5-year-old boy from a well where he had been stuck for five days, state media reported late on February 5, but it was not clear if he had survived the ordeal.
They worked through the night to reach the boy, named by local media as Rayan, who plunged 32m (104ft) through the well's narrow opening four days ago.
Rescuers said they were in an access tunnel less than a metre from the boy.
Fears of a possible landslide complicated the task. At that moment, a rescue official was unsure Rayan was still alive.
Chief rescuer Abdelhadi Tamrani told AFP that the camera showed him from behind lying on his side.
"It is not possible to determine the child's condition at all at this time. But we hope to God that the child is alive," he told local TV.
Footage on February 3 from a camera lowered into the well showed that Rayan was alive and conscious, although he appeared to be suffering from some minor head injuries.
Rescue workers have lowered an oxygen mask, food and water into the well but it was unclear whether the boy had been able to use the supplies.
A medical team is also on site, ready to treat the boy. A helicopter has also arrived at the scene.
The rescue effort has gripped the North African country for days, and thousands have gathered at the scene and have been encouraging rescuers.
The mixture of rocky and sandy soils has meant rescuers deem opening the water well's narrow shaft to be too dangerous.
Instead, bulldozers were used to cut a huge trench next to the well. Rescuers then started digging horizontally to reach the boy.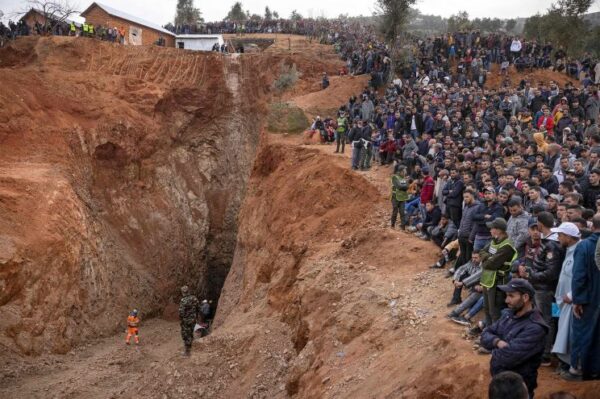 Led by Morocco's Civil Protection Directorate, rescue operations in the small northern town of Tamorot, around 60 miles from the city of Chefchaouen, have been ongoing since February 1.
Rayan's father was repairing the well at the time of the accident, and has said he and Rayan's mother were "devastated and very worried".
"In that one moment I took my eyes off him, the little one fell into the well. I haven't slept a wink," he told news site le360 on February 2.
Speaking to Moroccan media with tears in her eyes, Rayan's mother said: "The whole family went out to look for him. Then we realised that he'd fallen down the well. I'm still keeping up hope that we'll get him out alive."
On Moroccan social media, the #SaveRayan has been trending across the country as thousands of people have followed updates from local media and onlookers at the scene.