Afghanistan: President Ashraf Afghani Flees Abroad as Taliban Seizes Kabul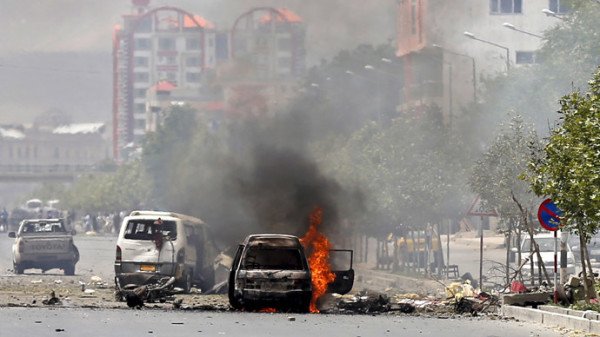 The Taliban fighters entered Afghanistan's capital Kabul and seized the presidential palace.
The government has collapsed, with President Ashraf Ghani fleeing abroad.
Kabul descended into chaos, as local residents and foreign nationals tried to escape.
For many Afghans it was a terrifying day that marked the return of Taliban rule almost 20 years after they were ousted by a US-led coalition.
Kabul was the last major city in Afghanistan to hold out against the Taliban offensive, which began months ago but has accelerated in the space of days.
The Taliban group was able to seize control now that foreign troops have all but withdrawn.
President Joe Biden has defended the withdrawal of American troops, saying he could not justify an "endless American presence in the middle of another country's civil conflict".
The Taliban ordered their fighters to enter Kabul on August 15, after earlier holding them back at the outskirts of the city.
The Taliban said the militants were going in to prevent chaos and looting after security forces left parts of Kabul.
Footage broadcast by Al Jazeera showed fighters inside the presidential palace, brandishing guns.
A spokesman for the group later told Al Jazeera: "The war is over."
The Taliban's advance into Kabul came after President Ghani fled. Details of his whereabouts remain unknown.
In a Facebook post addressed to Afghan citizens, President Ghani said he made the difficult decision to leave to avoid bloodshed in the capital city of six million people.
"The Taliban won victory in the judgment of sword and gun and they have responsibility to protect the honor, prosperity and self-respect of our compatriots," he said.
The president was criticized by other officials for leaving.
"God will hold him accountable and the nation will also judge," said Abdullah Abdullah, chairman of Afghanistan's High Council for National Reconciliation.
There was panic in Kabul as the Taliban drew closer to victory. Residents headed for the airport, abandoning cars and making their way on foot in a desperate bid to get out of the country.
The US Embassy said there were reports of gunfire at Kabul's airport, and warned its citizens to take shelter as "the security situation… is changing quickly".
In the city center, large queues formed at ATMs throughout the day as people sought to withdraw cash.
There were reports of fighting and injuries in the city's Qarabagh district.