Virgin Galactic: Richard Branson Successfully Reaches Edge of Space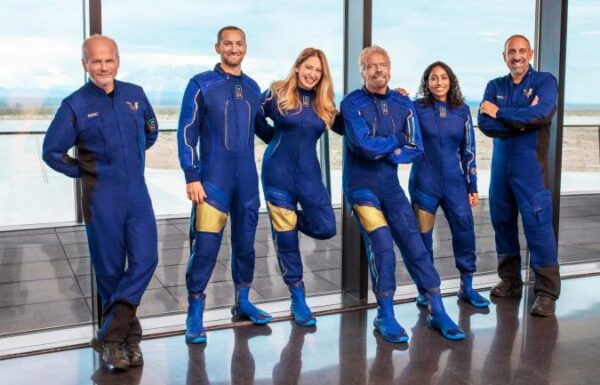 Richard Branson has successfully reached the edge of space on board his Virgin Galactic rocket plane.
The British billionaire flew high above New Mexico in the vehicle that his company has been developing for 17 years.
The trip was, Richard Branson said, the "experience of a lifetime".
The entrepreneur returned safely to Earth just over an hour after leaving the ground.
He tweeted: "I was once a child with a dream looking up to the stars. Now I'm an adult in a spaceship looking down to our beautiful Earth. To the next generation of dreamers: if we can do this, just imagine what you can do https://virg.in/4wYm #Unity22 @virgingalactic"
Sir Richard Branson also said in a press conference following the flight: "The whole thing was just magical."
The trip also makes Richard Branson the first of the new space tourism pioneers to try out their own vehicles, beating Amazon's Jeff Bezos and SpaceX's Elon Musk.
The height reached by the billionaire in the rocket plane, known as Unity, was 85km (282,000ft).
Richard Branson was accompanied on the mission by the vehicle's two pilots, Dave Mackay and Michael Masucci, and three Galactic employees – Beth Moses, Colin Bennett and Sirisha Bandla.
He billed the flight as a test of the space tourism experience he expects to begin selling to customers from next year.
"I've had my notebook with me and I've written down 30 or 40 little things that will make the experience for the next person who goes to space with us that much better," he said.
"The only way sometimes you can find these little things is to get in a spaceship and go to space and experience it for yourself."
Some 600 individuals have already paid deposits for tickets that will cost them up to $250,000.
These are all people who want to reach a height where they can see the sky turn black and marvel at the Earth's horizon as it curves away into the distance. Such a flight should also afford them about five minutes of weightlessness during which they will be allowed to float around inside Unity's cabin.
It's been a long road for Richard Branson to get to this point. He first announced his intention to make a space plane in 2004, with the belief he could start a commercial service by 2007.
However, technical difficulties, including a fatal crash during a development flight in 2014, have made the space project one of the most challenging ventures of Richard Branson's career.