Pro-Trump Protesters Storm Capitol Building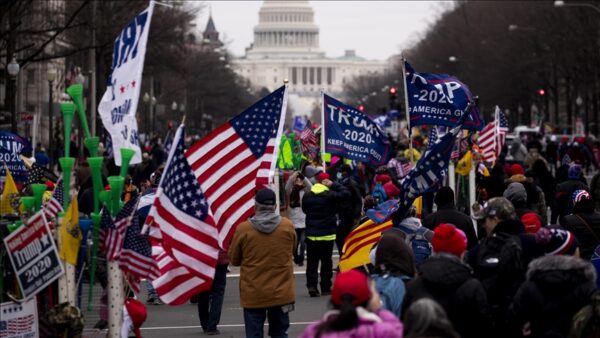 Chaos has broken out within the Capitol as pro-Trump supporters break into the building.
The ongoing special House and Senate sessions have been recessed amid the escalating clashes between protesters and police.
Lawmakers had gathered to confirm the election of Democratic President-elect Joe Biden – an outcome rejected by protesters.
Photos show demonstrators gathered just outside the Senate chamber. Other images show demonstrators carrying firearms.
Capitol Police have put the Capitol Building on lockdown amid violent clashes between police and Trump supporters, gathered to protest the 2020 election results.
Footage shows demonstrators swarming the Capitol building, breaking the temporary barrier that had been put in place ahead of today's events. Media describe some protesters climbing on parts of the Capitol building, attempting to get inside.
Capitol police have detained some protesters as they continue to storm the building.
Some demonstrators have broken into the Senate chamber, climbing on the side of the walls as police drew their weapons.
President Donald Trump has just tweeted another message to protesters who have stormed the US Capitol, saying: "No violence!"
He tweeted: "I am asking for everyone at the U.S. Capitol to remain peaceful. No violence! Remember, WE are the Party of Law & Order – respect the Law and our great men and women in Blue. Thank you!"
Capitol Hill police are calling for reinforcements as the violence continues at the Capitol.
A spokesperson for the Department of Homeland Security said members of the Secret Service and the Federal Protective Service are currently meeting calls to provide assistance.
The Department of Defense has not yet decided to deploy the National Guard to back up law enforcement on the scene.
Protesters who have stormed the US Capitol are trespassing on federal property and may face charges.
After a summer of protests against coronavirus lockdown measures, including in Michigan where armed militia members stormed the state capitol, we're now seeing similar scenes playing out in Washington DC.
While both chambers of the US Congress were meeting on January 6 to certify Democrat Joe Biden's win over Donald Trump, the proceedings were interrupted by police clashes with rioters in adjoining corridors.
President Trump has for weeks claimed to have been the true winner, saying without evidence that the votes cast for Biden in crucial swing states were fraudulent.
He and his supporters have been pressing VP Mike Pence to overturn the election result by refusing to certify Joe Biden's win, something that experts agree he does not have the legal power to do.
In the days leading up to the certification, President Trump said that he would attend the "Save America" rally happening in Washington on January 6, promising on Twitter that it would be "very big" and "wild".
About an hour after President Trump addressed thousands on the National Mall, promising to "never concede" that he had lost, chaos was unleashed.
Lawmakers and reporters inside the building say they have been asked to evacuate, shelter in place and put on gas masks.
Both chambers of Congress abruptly stopped proceedings as they were debating November's election results.
As his supporters storm into the Capitol in quickly-escalating protests, President Trump has broken his silence and tweeted for demonstrators to "support Capitol Police and Law Enforcement".
Media report that tear gas has now been used inside the Capitol building as a growing number of demonstrators enter the building.
DC Mayor Muriel Bowser has ordered a citywide curfew beginning at 18:00 EST.