Nashville RV Explosion: Suicide Bombing Suspected in Christmas Day Blast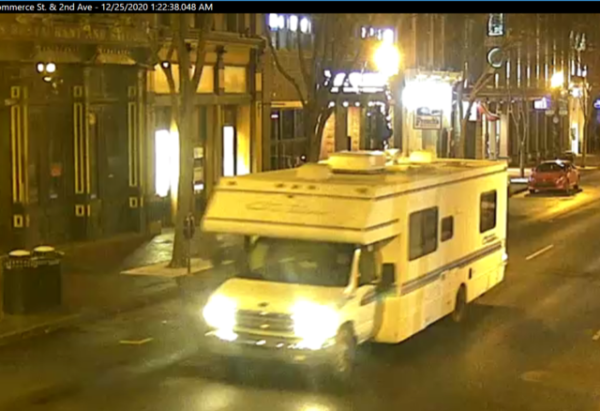 The RV explosion in Nashville on Christmas Day was probably a suicide bombing, law enforcement officials are quoted as saying by media.
Investigators are conducting DNA tests after human remains were found near the site of the powerful blast.
The home of a possible person of interest was searched on December 26 in Nashville's suburb of Antioch.
The explosion injured three people and disrupted communications systems in Tennessee and four other states.
No motive has yet been established for the explosion, and no-one has yet said they were behind it.
Meanwhile, businesses and TV personalities have offered more than $300,000 to catch those responsible.
Investigators now believe that the blast was likely the result of a suicide bombing, according to two law enforcement sources cited by CNN.
CNN is also quoting an FBI official as saying that agents are not looking for another suspect after the human remains were found.
CBS News says the leading theory now is that the subject may have been killed in the blast.
Newsweek reports that the investigators are trying to find the suspect's mother to conduct DNA tests.
FBI Special Agent in Charge Douglas Korneski earlier said officials had received about 500 tips possibly relating to the explosion.
After visiting the site, Tennessee Governor Bill Lee said it was a "miracle" that no-one had been killed.
The governor said he had asked President Donald Trump for a federal emergency declaration for his state to aid relief efforts.
Officers responded to reports of gunshots just before 06:00 local time on Christmas Day in an area of the city known for its restaurants and nightlife.
Shortly afterwards, they found an RV broadcasting a warning message to leave the area.
The van exploded a few minutes later, the force of the blast knocking an officer off their feet, police said.
The RV blew up outside a building belonging to the telecoms giant AT&T, which also occupies an office tower nearby.
Buildings suffered structural damage, windows were blown out, and trees were felled. Videos posted on social media showed water from damaged pipes running down walls as alarms howled in the background.
Police emergency systems were knocked out across Tennessee.
Phone, internet and fiber optic TV services were also disrupted in Tennessee, Mississippi, Kentucky, Alabama and Georgia, according to AT&T.