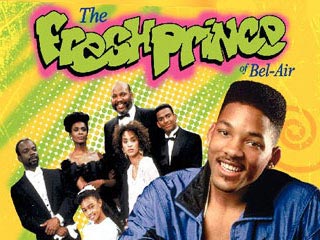 Will Smith has revealed who will play him in The Fresh Prince of Bel-Air reboot.
Jabari Banks will take on the role of Will in the upcoming reboot of the hit TV sitcom.
The character catapulted Will Smith, now 52, to stardom in the early 1990s.
"It is an absolute pleasure to meet you, to be on with you, and from the deepest parts of my heart I want to say congratulations to you," he told Jabari Banks in a video call.
"You have the role of Will on Bel-Air."
"I'm ready, I'm so ready," replied Jabari Banks, who revealed his father had suggested he try out for the part after reading an article about it.
"This is a dream come true," he added.
Jabari Banks said the show had a huge impact on his life, adding that he once got his friends to join him in dressing up as characters from the Fresh Prince of Bel-Air while he was at high school.
The reboot, which will appear on NBC streaming service Peacock, was inspired by a 2019 viral fan video by Morgan Cooper, who re-imagined the comedy as a modern-day drama.
Morgan Cooper was snapped up to work on the new project, produced by Will and Jada Pinkett Smith Westbrook Studios and Universal Television, where he will now be joined by Jabari Banks.
The original Will told the new one: "You've got a fantastic road ahead of you, and I'm looking forward to being an asset for you in this process as you build out your life and build out your career."
According to Deadline, this will be Jabari Banks' first TV role.
A resident of west Philadelphia, which is also where the titular character was famously "born and raised", Jabari Banks graduated from the city's University of the Arts in 2020.
Jabari Banks is also an accomplished singer-songwriter, rapper, and basketball player.
The Fresh Prince of Bel-Air, which ran for six seasons from 1990 to 1996, starred Will Smith as a fictionalized version of himself.