Drivers who use hands-free devices while driving are safer than those who talk or text. Virginia Tech Transportation Institute (VTTI) recently conducted a study that indicates drivers who use hands-free devices may even save lives. However, the use of hands-free devices still comes with an increased risk of accidents. Drivers should be aware of the dangers of distracted driving and the potential problems and liabilities that might result.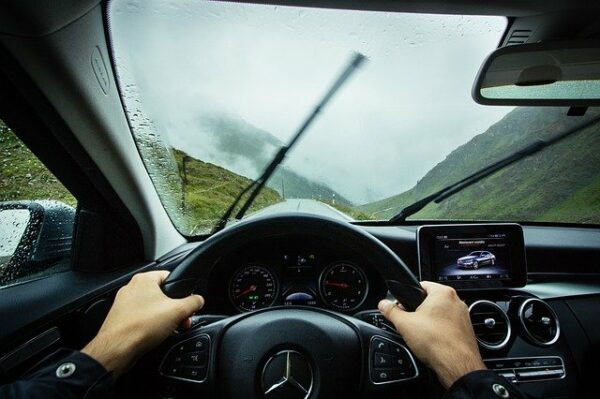 Are Hand-Held Devices Safer than Regular Phone Usage?
VTTI's recent study suggests that any activity that causes a driver to take his or her eyes off the road or hands off the wheel leads to a substantially increased crash risk. Therefore, drivers who use a hand-held phone are much more likely to cause an accident. Their crash risk is 2 to 3.5 times higher than a "model driver."
The safest drivers are those that are alert, attentive, and sober. Even though drivers using hands-free devices are much safer than drivers who use hand-held devices, they do not qualify as model drivers. While talking on the phone is a primarily cognitive behavior, it's still a distraction and is associated with slightly decreased reaction times. However, VTTI's study shows that talking on the phone has roughly the same detrimental effect on a driver as singing or talking to a passenger. One of the lead researchers for VTTI's study, Tom Dingle, explained that "talking on hands-free devices does not have any detrimental effects." The study also indicated that the use of hands-free devices was not associated with any severe crashes or property damage.
What Are the Consequences of Using Hand-Held Devices While Driving?
Many states have passed laws prohibiting drivers from using hand-held devices, such as phones. If a police officer catches a driver using a phone while driving, he or she can cite the driver, which can be extremely expensive. However, a driver may experience more severe consequences if they cause an accident while using a hand-held device.
An insurance company might be able to deny coverage to a driver injured in a crash if the driver causes the accident while using a hand-held device. Although car insurance typically covers damage to cars and passengers, insurance companies may deny coverage if a driver is partially or wholly at fault. While a driver should always file a claim, insurance companies are likely to withhold payment for any accident where the driver was using a hand-held device in a hands-free state.
If an accident is fatal, the driver's family may run into problems filing a life insurance claim. For Accident Death and Dismemberment policies (AD&D), insurance companies may deny coverage if the insured was committing a crime at the time of death. Drivers using hand-held devices in a hands-free state are committing a crime. Their actions may void their AD&D coverage.
Further, if others are injured or killed in an accident caused by a driver using a hand-held device, the driver's insurance company may refuse to cover the claims. If that is the case, victims may choose to pursue damages against the driver. The driver will be personally liable and could lose all of his or her assets.
Using hands-free devices is a safer alternative to using hand-held devices. Further, using hands-free devices can help drivers avoid severe consequences.