Turkey's incumbent president, Recep Tayyip Erdogan, will go head to head with his opposition rival Kemal Kilicdaoglu in a run-off vote, the supreme election council has confirmed.
President Erdogan led the first round with 49.51% of the vote, election council leader Ahmet Yener said.
Although the powerful president had a clear lead over his main challenger Kemal Kilicdaroglu, who polled 44.88%, he needed more than half the vote to win the race outright.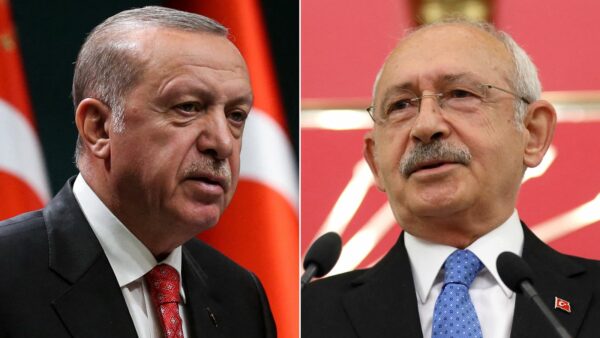 A second round will go ahead on May 28, with Recep Tayyip Erdogan the clear favorite.
Shortly before the announcement by election council leader, Kemal Kilicdaroglu appealed to supporters not to "fall into despair" and to stand and take on the election together.
However, it was not immediately obvious how the opposition Nation Alliance could narrow a margin of almost five points in just two weeks. Although the third candidate, ultranationalist Sinan Ogan, polled 5.17% it seemed unlikely that all his voters would switch to the centre-left-led opposition.
Recep Tayyip Erdogan has been in power in Turkey for more than 20 years, first as prime minister and then as president, extending his powers still further after a failed coup in 2016.
Many opinion polls had suggested Kemal Kilicdaroglu was on course to win the first round, and Erdogan supporters celebrated outside party headquarters in Ankara long into the night.
Addressing them from the balcony, President Erdogan told them he had won 2.6 million more votes than his chief rival.
With Kemal Kilicdaroglu as candidate, the opposition was seen as having its best chance so far at removing him from power. It drew together a broad-based alliance of parties and offered an end to soaring inflation and President Erdogan's system of an all-powerful presidency.
Ahmet Yener said all of the ballot boxes from May 14 vote had been opened and turnout in Turkey was 88.92%. However, it was clear that a number of votes cast abroad had not yet been counted.
The international monitoring group OSCE highlighted several flaws in the election, pointing out that President Erdogan and the ruling parties had enjoyed "an unjustified advantage".
Although the monitors praised the high turnout and political choice, they said the vote had been limited by an unlevel playing field. They singled out "biased media coverage", as well as intimidation of the pro-Kurdish party and the jailing of its former joint leader and that of philanthropist Osman Kavala.
Another issue they highlighted was the limited help given to survivors of February's earthquakes to take part in the election.
Recep Tayyip Erdogan was widely criticised for the state's slow response to the disaster, which left more than 50,000 people dead.
But it had little effect on election results in the eight cities seen as strongholds of his AK Party in the earthquake zone. In seven of the cities the president's support remained above 60%. Only in Gaziantep did it slip to 59%.
The vote was not only for the presidency but for the 600 seats in parliament too. And here too the Erdogan party had a good night, heading for a majority of about 317 seats.