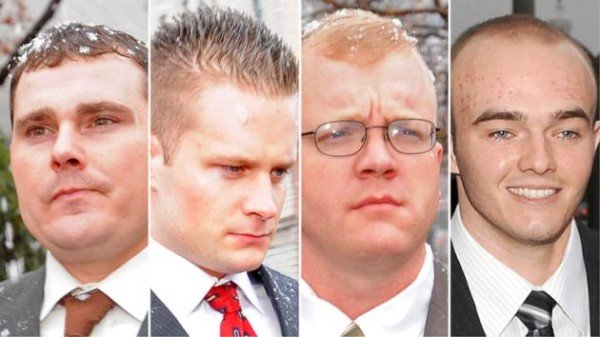 President Donald Trump has pardoned four former Blackwater security guards convicted over their involvement in the killing of 14 Iraqi civilians in 2007.
Dustin Heard, Evan Liberty, Nicholas Slatten and Paul Slough opened fire in Baghdad's Nisoor Square while escorting an American diplomatic convoy.
According to the White House, the pardons were supported by the public and lawmakers.
However, the father of a boy who died called them "indescribable" and a rights group said President Trump had hit a "new low".
There was no immediate response from the Iraqi government.
Heard, Liberty, Slatten and Slough were among 19 Blackwater private security contractors assigned to guard a convoy of four heavily-armored vehicles carrying US personnel on September 16, 2007.
According to the DoJ, at about noon that day several of the contractors opened fire in and around Nisoor Square, a busy roundabout that was immediately adjacent to the heavily-fortified Green Zone.
When they stopped shooting, at least 14 Iraqi civilians were dead – 10 men, two women and two boys, aged nine and 11. Iraqi authorities put the toll at 17.
US prosecutors said Nicholas Slatten was the first to fire, without provocation, killing Ahmed Haithem Ahmed Al Rubiay, an aspiring doctor who was driving his mother to an appointment.
The contractors said they mistakenly believed that they were under attack.
The incident caused international outrage, strained relations between the US and Iraq, and sparked a debate over the role of contractors in warzones.
In 2014, a US federal court found Nicholas Slatten guilty of murder, while Paul Slough, Evan Liberty and Dustin Heard were convicted of voluntary manslaughter, attempted manslaughter and other charges. Nicholas Slatten was sentenced to life in prison, and the other three were handed 30-year terms.
However, the Court of Appeals reversed Nicholas Slatten's conviction and ordered that the three others be resentenced for their roles in the crime.
Nicholas Slatten was retried in 2018, but a mistrial was declared after the jury was unable to reach a verdict. The second retrial began later that year and he was found guilty of committing first-degree murder. Nicholas Slatten was sentenced to life in prison without parole in 2019.
Paul Slough, Evan Liberty and Dustin Heard subsequently had their sentences reduced to 15, 14 and 12 years respectively.
A White House statement said Nicholas Slatten, Paul Slough, Evan Liberty and Dustin Heard had a "long history of service to the nation" as veterans of the US Army and US Marine Corps, and that their pardons were "broadly supported by the public… and elected officials".
The statement added that the Court of Appeals "ruled that additional evidence should have been presented at Mr. Slatten's trial", and that prosecutors recently disclosed "that the lead Iraqi investigator, who prosecutors relied heavily on to verify that there were no insurgent victims and to collect evidence, may have had ties to insurgent groups himself".