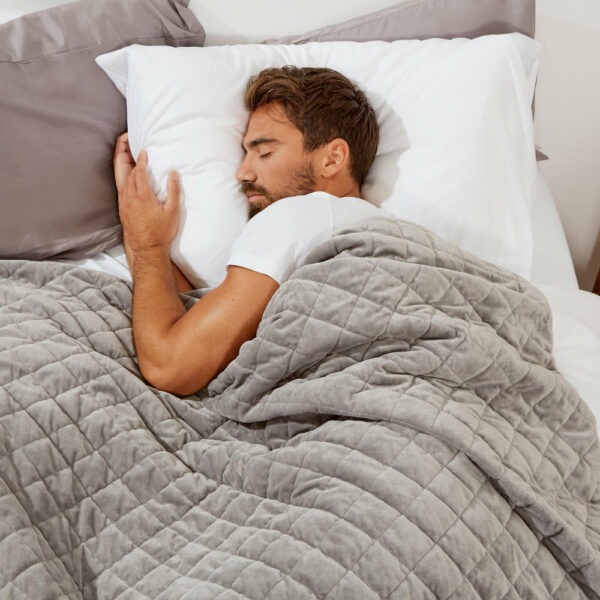 Sleep has a significant impact on one's life as it ensures mental and physical well-being. However, sometimes it's not possible to get good quality and quantity of sleep, and this can make you feel groggy and drained. There are many factors that can contribute to poor sleep quality, and you can always take some measures to overcome them. For example, if you have sleep anxiety, specifically engineered weighted blankets for adults can alleviate the symptoms of anxiety for deep, restorative sleep.
Below, we have mentioned five ways that can help you improve your sleep quality naturally and fall asleep instantly. Keep reading to know!
1. Limit the Intake of Unhealthy Foods and Drinks before Bedtime
Unhealthy fast food can cause stomach acidity and heartburn, which can disrupt a good night's sleep. Hence, it's vital to replace unhealthy food or even snacks with healthy ones by evening. You should also not binge on food as this can make you feel super full and uncomfortable.
Additionally, you should completely restrict the consumption of caffeine and caffeinated drinks because they are sleep inhibitors. Natural, fresh juices or simply water are excellent alternatives.
2. Create a Soothing and Adequate Sleep Environment
Usually, the ideal sleep environment is dark, quiet, and cool. However, it can vary from person to person, so you should create an environment that best suits your preferences.
The use of dark blinds, an air conditioner, earplugs, and a white noise machine can all make the perfect sleep environment for you. You should also never overlook the importance of comfortable bedding.
3. Limit Daytime Naps
It's true that power naps can immediately recharge and rejuvenate your body. However, you should only limit your naps to "naps". Typically, naps shouldn't be more than 20 minutes, and if your "naps" exceed this time limit, then your sleep cycle will be disrupted.
In return, you will feel exhausted, cranky, and confused. Moreover, you will also have to go through countless tosses and turns at night before finally dozing off.
4. Follow Your Sleep Schedule
Just like your muscles get trained enough to not get sore after a few months of working out, the same is the case with your brain. After a while, your brain gets trained on when it goes to sleep and wakes up. This is basically called the circadian rhythm.
A healthy recommended sleep quantity is seven to eight hours for adults. So, you should make sure to sleep and get up at a certain time. For instance, if you sleep at 11 at night, you should always wake up at 7 in the morning. You shouldn't get off track on holidays and weekends in order to maintain your circadian rhythm.
5. Deal With Your Worries and Anxiety
Most of the time, you are not able to fall asleep quickly because of several stress factors. It could be related to your work or personal life.
Whatever it is, you need to make sure you deal with them before going to bed. Otherwise, your brain will be active, and your sleep quality will be adversely affected. You can either journal or meditate before going to bed to resolve your worries and anxiety.
If you're depressed or you have any other mental health issue that is making you sleep-deprived, it's important to visit a therapist as they can understand you better and help you cope with your issues easily.