Israeli police have attacked mourners at the funeral of Al Jazeera reporter Shireen Abu Akleh, whose killing in the occupied West Bank has caused a surge of anger.
The journalist's coffin almost fell as police, some using batons, waded into a crowd of Palestinians gathered around it.
Police said they acted after being pelted with stones.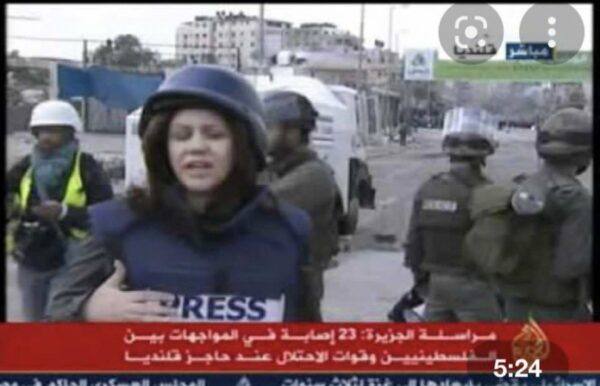 Shireen Abu Akleh was shot dead in disputed circumstances on May 11, with Israel and Palestinians trading blame. The killing has been widely condemned.
Footage showed a standoff between police and Palestinians gathered around the coffin in the hospital compound, before officers push the crowd back, with some beating and kicking mourners. Police said officers "were forced to use riot dispersal means".
A spokesman for UN Secretary General Antonio Guterres said he was "deeply disturbed" by the confrontations between Israeli security forces and Palestinians and the behavior of some police.
White House spokeswoman Jen Psaki also said the images of police hitting mourners were disturbing.
"We regret the intrusion into what should have been a peaceful procession," she said.
The Palestinian Authority and Al Jazeera claim Shireen Abu Akleh was shot dead by Israeli forces, while Israel said it was not yet possible to determine what happened and that she could have been killed by Palestinian gunfire.
An Israeli military interim report on May 12 said the fatal shot could have come from "massive fire from Palestinian gunmen", or possibly from "a few bullets" fired by a soldier "at a terrorist who was firing at his vehicle".
Shireen Abu Akleh, a 51-year-old Palestinian American, was a veteran correspondent for Al Jazeera's Arabic news channel and had reported on the Israel-Palestinian conflict for two decades.
The journalist was given the rarity of a funeral at the compound of Palestinian President Mahmoud Abbas on May 12, where her coffin was brought draped in the Palestinian flag. President Abbas paid tribute to her, describing her as a "martyr of the free word" who "sacrificed her life" to defend the Palestinian cause.
He said Israel was "fully responsible for her killing" and that he would refer the case to the International Criminal Court, which investigates potential war crimes.
Israeli PM Naftali Bennett has accused President Abbas of "throwing blame at Israel without any basis".
Shireen Abu Akleh was in the Jenin refugee camp early on May 11 to report on the Israeli raid. The Israeli military said the operation was to apprehend "terrorist suspects".
It said: "Tens of Palestinian gunmen fired at and hurled explosive devices toward the soldiers. The soldiers responded with fire toward the gunmen and hits were identified."
Another Palestinian journalist, Al Jazeera producer Ali Samoudi, was shot and wounded during the violence.