Sneakers are not only sport shoes but are true must-haves suitable for a wide variety of situations. Thanks to the genius of designers, it is now possible to find models with unique and eye-catching designs, ideal for tastefully completing the most sought-after outfits.
According to some sources, sneakers were invented in the 19th century by an English police officer who aimed to obtain very quiet shoes thanks to the use of rubber soles. These comfortable and versatile shoes can be considered the direct descendants of the "footwear" of the American Indians, who used to cover the soles of their feet with latex.
During the 1896 Athens Olympics sneakers were worn by some athletes and they became immediately famous and widely used. Over time, what began as a functional sports shoe underwent numerous transformations, becoming one of the most beloved footwear for both sexes. Today, designer sneakers men are chosen not only by sportsmen and those who like to dress casual, but also by businessmen. The latter cleverly take advantage of the original elegant-sporty mix, pairing white sneakers with smart black suits.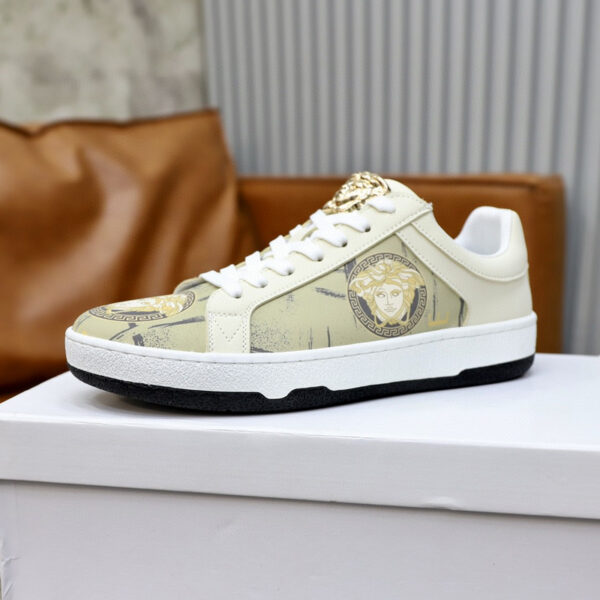 Sneakers for men: the trendy models
Even this season, sneakers remain on the crest of the wave and are essential for anyone who wants to sport a fashionable look.
The trendiest design models are countless and offer a solution for every style. High or low, simple or with highly creative shapes, they can be chosen in the classic monochrome white version, but also in black or, for those who want to dare a bit more, silver, gold, red and even total pink.
Trendy, in addition to plain-colored models, are those with original prints and patterns with a character that is now modern and futuristic, now classic and a bit baroque.
As for materials, the typical rubber sole can be combined with leather, polyester, and canvas, depending on the model.
How to choose sneakers
The wide range of models available can make choosing sneakers difficult. When buying a new pair, it is important to take into account not only personal taste, the trends of the moment and the favorite brand, but also, if not especially, your style and the situations in which you plan to wear them.
Those who have an office job and wish to wear their new sneakers during long workdays will inevitably have to take comfort into account; in addition to this, they will have to consider whether the context in which they work or their position requires a classic and formal look or allows them to dare. In the first case, it is better to go for black sneakers, monochrome or with gold-colored inserts, or white, monochrome or with prints and inserts with a minimal character. If, on the other hand, the context allows you to unleash your creativity, green light to the most original and innovative models, such as fiery red ones with a futuristic character, with original rubber decorations, or models with baroque prints.
On the other hand, those looking for a pair of sneakers to go with a casual outfit will be able to be as daring as possible and go for models that include colors used in the outfit. Those who wear jeans and a white T-shirt can opt for a light blue and white shoe, while those who love pink shirts will have no choice but to buy a total pink model.