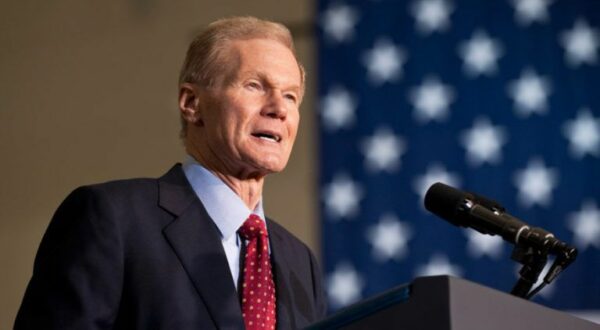 Former Florida Senator and one-time astronaut Bill Nelson has been nominated by President Joe Biden to be the next head of NASA.
He is seen as a moderate Democrat, and his nomination on March 19 drew bipartisan praise.
The 78-year-old will need to be confirmed in the Senate before he can take up the role.
Bill Nelson said he was "honored" to be picked to lead the US space agency, adding that he would "help lead NASA into an exciting future".
In a statement, the White House said he was "known as the go-to senator for our nation's space program" for many years.
"Almost every piece of space and science law has had his imprint," the statement said.
The Republican Senator from Florida, Marco Rubio, said: "I cannot think of anyone better to lead NASA."
In a statement, Bill Nelson said NASA's workforce "radiates optimism, ingenuity and a can-do spirit."
He added: "The NASA team continues to achieve the seemingly impossible as we venture into the cosmos."
Bill Nelson was a driving force behind NASA's Space Launch System (SLS) rocket, which was conceived in the wake of an Obama-era overhaul of the US space program.
He will succeed Jim Bridenstine, who led the agency for almost three years under the Trump administration.
Jim Bridenstine earned widespread praise for his efforts to promote NASA programs – in particular, its Artemis venture, which will see astronauts return to the Moon in the 2020s before mounting a mission to Mars.
Bill Nelson was among those who initially criticized Jim Bridenstine's confirmation in 2018, saying: "The administrator must be a leader who has the ability to bring us together… on a shared vision for future space exploration."
The Oklahoma Congressman had no formal qualifications in science and engineering, and there were concerns he would politicize the non-partisan agency.
However, following Jim Bridenstine's successful tenure at NASA, the Biden administration has opted to appoint another politician as the agency's head – albeit a former astronaut with a long history of working on space issues.
Bill Nelson served in Florida's state legislature during the 1970s, representing the district that's home to NASA's Kennedy Space Center.
After his election to the House of Representatives in 1978, he became the second sitting member of Congress to travel into space when he flew as a payload specialist aboard the space shuttle Columbia in 1986.
After he won election to the Senate in Florida in 2000, Bill Nelson continued to be closely involved in formulating space policy.
He lost his last re-election bid and his Senate term ended in 2019.