The technological revolution is reshaping every industry and sector of our lives and business space, from traditional services like taxis and telecoms to cutting-edge fields like mobile technology and manufacturing. Change is happening at an unprecedented pace, and there's no better time to want to pursue a technology-oriented career.
According to the CISCO Networking Academy, 99% of jobs now require tech proficiency. Yes, you read that correctly: nearly every job demands tech-savvy skills. Whether you're a cashier in a drive-through, a housekeeper, or a software developer for the government, we all have to work with some form of technology.
Forward Role, a tech recruiting firm, says that as the Internet of Everything (IoE) takes center stage, with an estimated 30 to 55 billion smart devices connected worldwide by 2024, techie roles are rising, promising many job prospects. So, if you're eager to land an impressive tech position, here are some tips to boost your chances.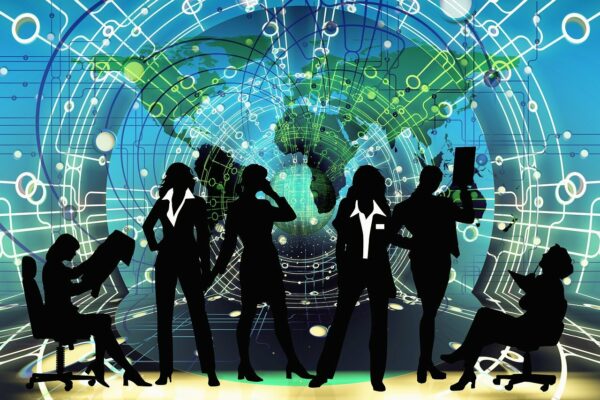 Image by Gerd Altmann from Pixabay
1. Develop Relevant Skills
According to Indeed, the most in-demand specialized skills in tech right now are artificial intelligence (AI), cybersecurity, cloud computing, software engineering, software development, and project management. If you had to pick from those, we'd advise that you go with cybersecurity. Forbes says that in the first half of 2019 alone, according to researchers, 4 billion records were exposed by data breaches.
KnowledgeHut points out that tech professionals with specialized skills in the cybersecurity domain are sought after globally. In fact, the World Economic Forum predicts America's cybersecurity job market will grow by 10.09% between 2023 and 2027.
2. Build a Strong Portfolio and Knowledge Base
Create a portfolio showcasing your projects, code samples, and tech-related work. Be intentional about the type of projects you do, especially if you're freelancing. Take time to explore and build a knowledge base that'll help you fit into a demanding tech role.
Have you taken the time to learn about the Internet of Things? Do you know that, besides Bitcoin, according to Coin base, the open-source code known as blockchain powers over 6,000 other cryptocurrencies? Or that the tech industry makes up 36% of the world market? Knowledge is power, so power up!
Creating a well-organized and visually appealing portfolio demonstrates your capabilities in solving business programming and tech challenges. Potential employers always want to see your skills in action so they can determine if your experiences are a good fit for their business.
3. Network and Connect
According to BetterUp, building a solid professional network unlocks doors to exciting new opportunities that might otherwise be beyond your reach. Furthermore, fostering meaningful professional relationships might lead someone to personally hand-deliver your resume to the hiring manager, giving you a distinct advantage and increasing your chances of landing your dream job. As you network and meet people in your field, you'll learn about new opportunities early enough to apply.
To expand your network, attend your city's tech events and online seminars and conferences. Grab opportunities to talk about your skills and passion to the right people. Please don't wait for them to initiate the conversations all the time.
Also, utilize professional platforms like LinkedIn to connect with tech professionals and recruiters. Tech Target reports that LinkedIn is a social network for career professionals and businesses, with over 500 million members worldwide. LinkedIn has helped many professionals secure jobs, so learn how to leverage it ASAP.
4. Tailor Your Resume
Sending out numerous generic job applications is counterproductive for many job seekers. Don't fall into that trap! For starters, you might apply to positions that aren't a good fit for you. As well, recruiters can quickly identify a cookie-cutter application from a mile away.
It's more effective to focus solely on job opportunities that align perfectly with your expertise and interests and then invest the time to customize your application accordingly. Tailoring your application showcases your genuine interest in the position and increases the likelihood of making a meaningful connection with potential employers.
There's no magic pill for automatically landing an impressive tech position; it will take some work, wit, and consistency. Stay dedicated, keep honing your skills, and believe in yourself. You've got this!