US journalist Brent Renaud has been shot dead in the town of Irpin, outside Kyiv, Ukraine, police say.
The 50-year-old was a journalist and filmmaker who was working in the region for Time.
Kyiv's police chief Andriy Nebytov said Brent Renaud had been targeted by Russian soldiers. Two other journalists were injured and taken to hospital.
It is the first reported death of a foreign journalist covering the war in Ukraine.
One of the injured journalists, Juan Arredondo, told an Italian reporter he had been with Brent Renaud when they came under fire.
Photographs are circulating online showing a press ID for Brent Renaud issued by the New York Times.
In a statement, the newspaper said it was "deeply saddened" to hear of Brent Renaud's death but that he had not been working for the newspaper in Ukraine.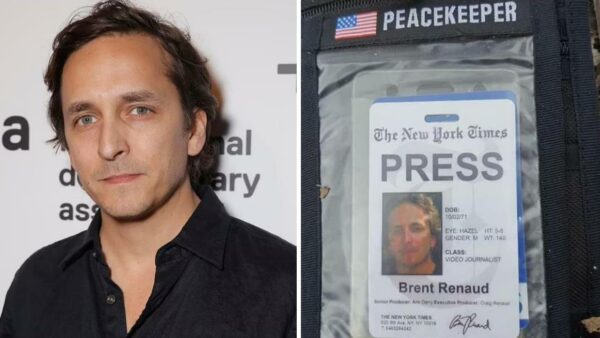 Brent Renaud last worked for the publication in 2015, the Times said, and the press ID he was wearing in Ukraine had been issued years ago.
Time editor-in-chief and CEO Edward Felsenthal and Ian Orefice, the president and chief operating officer of Time and Time Studios, said they were "devastated by the loss".
"As an award-winning filmmaker and journalist, Brent tackled the toughest stories around the world often alongside his brother Craig Renaud," the statement said.
Brent Renaud had reported from Afghanistan, Iraq and Haiti. He won a Peabody Award for his work on a 2014 series on Chicago schools, Last Chance High.
He often worked alongside his brother, Craig, also a filmmaker. It is not known whether Craig also travelled to Ukraine.
Brent Renaud's death comes less than two weeks after Ukrainian journalist Yevhenii Skaum, a camera operator for the Ukrainian television channel LIVE, was killed when a TV transmission tower in Kyiv was hit by shelling.