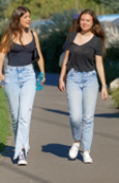 Jeans are a wardrobe staple for many, offering comfort, versatility, and timeless style. While skinny jeans have dominated the fashion scene for years, another denim trend has been quietly making its mark for a while now, too: boyfriend jeans. If you've been putting off trying them, it's time to reconsider.
Boyfriend jeans offer a refreshing take on denim, providing a relaxed and effortlessly chic look that can be tailored to suit your style. Below, we'll dive into what boyfriend jeans are, who they suit, their benefits, tips for buying them, how to find the right pair for different body types, and what to pair them with for a fashionable ensemble.
What Are Boyfriend Jeans?
Boyfriend jeans are a style of women's jeans characterized by their loose, relaxed fit and typically straight-legged or slightly tapered cut. They're designed to mimic the look of jeans borrowed from a boyfriend, hence the name. These jeans typically sit lower on the hips and have a casual, laid-back vibe. They're known for their roomy fit, which is a departure from the snug and body-hugging silhouette of skinny jeans.
Who Do Boyfriend Jeans Suit?
One of the great things about boyfriend jeans is their versatility. They can suit a wide range of body types and fashion preferences. For example, boyfriend jeans can create the illusion of longer legs, making them a great choice for petite women. Boyfriend jeans can also balance out curvier figures by providing a more relaxed fit around the hips and thighs. They offer comfort without sacrificing style.
Additionally, boyfriend jeans can complement the long and lean stature of tall women, though they need to experiment with different lengths and styles to find what suits them best. Plus, for those with a straight body type, boyfriend jeans can add some volume and dimension to the body's lower half, creating a more defined shape.
Benefits of Boyfriend Jeans
Why should you buy some boyfriend jeans for women to add to your denim collection? For starters, there's comfort. Boyfriend jeans prioritize comfort without compromising style. The looser fit allows for ease of movement, making them perfect for everyday wear.
Boyfriend jeans exude an effortless and relaxed style, too. They can be dressed up or down, and you can pair them with a wide range of tops and shoes, making them handy for creating different looks for different occasions. Furthermore, the relaxed fit provides better breathability, so they're a great option for warmer weather.
Tips for Buying Boyfriend Jeans
When shopping for boyfriend jeans, remember some tips to find the perfect pair. For instance, boyfriend jeans are meant to have a relaxed fit but should not be overly baggy, so consider sizing down for a more flattering look. Also, the rise of the jeans, whether low, mid, or high, will affect the fit and style. Choose the rise that best complements your body shape.
Boyfriend jeans come in various styles, including distressed, cuffed, or straight-leg, so it's vital to experiment with different styles to find your favorite. Plus, the length of boyfriend jeans can vary. Choose a length that suits your height and pairs well with your preferred footwear.
Finding the Right Boyfriend Jeans for Different Body Types
Finding the right pair of boyfriend jeans for your body type can enhance your overall look. Here are some tailored suggestions:
Hourglass Figures – Emphasize your curves by choosing boyfriend jeans with a higher rise and a slightly tapered leg. Look for styles that cinch at the waist to accentuate your hourglass shape.
Pear-Shaped Bodies – Opt for boyfriend jeans that are slightly looser around the hips and thighs. A mid-rise style can balance out your proportions.
Apple-Shaped Figures – Look for boyfriend jeans with a mid-rise that sits comfortably at your waist. Avoid overly baggy styles and opt for a pair with a straight leg to create balance.
Athletic Builds – Boyfriend jeans with a relaxed fit and cuffed hems can add volume to your lower half, enhancing your athletic build.
Pairing Boyfriend Jeans with Style
Once you've found your ideal pair of boyfriend jeans, it's time to explore different styling options. You can create a laid-back yet chic look by pairing your jeans with a tucked-in graphic tee, sneakers, and a statement belt. Accessorize with layered necklaces and oversized sunglasses.
Alternatively, elevate your boyfriend jeans with a crisp white blouse, heeled mules, and a structured handbag. Add a pop of color with bold lipstick and statement earrings. For boho vibes, combining your boyfriend jeans with a flowy, patterned blouse and suede ankle boots is best. Accessorize with a fringed crossbody bag and wide-brimmed hat.
To achieve a more sporty look, team your boyfriend jeans with a cropped hoodie, high-top sneakers, and a backpack and cap.
Want to wear your jeans to the office? If so, pair them with a tailored blazer, a tucked-in blouse, and block-heeled pumps for an elegant ensemble.
Boyfriend jeans offer a refreshing departure from the skinny jean craze, providing comfort, style, and versatility for fashion enthusiasts of all body types. So why wait? Dive into the world of relaxed denim and unlock a new realm of fashion possibilities today.