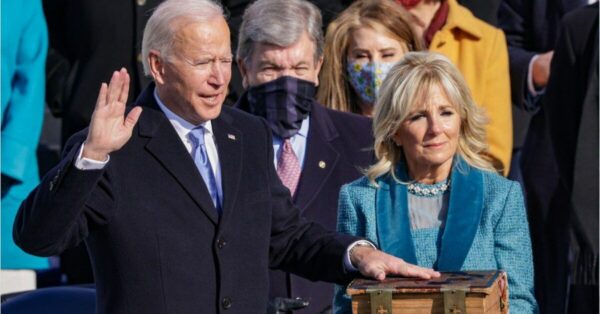 President Joe Biden will sign 10 executive orders to boost the fight against Covid-19 which has ravaged the United States.
Vaccination will be accelerated and testing increased. Emergency legislation will be used to increase production of essentials like masks.
In a break with former President Donald Trump, the policy stresses a national strategy rather than relying on states to decide what is best.
The moves come a day after Joe Biden was sworn in as the 46th president.
The Trump administration was widely accused of failing to get to grips with the pandemic.
According to Johns Hopkins University, the US is the worst-hit country with more than 406,000 lives lost to Covid-19. Nearly 24.5 million have been infected.
In his inauguration speech, Joe Biden warned that the coronavirus pandemic in the US was entering its "deadliest period".
The president's Covid-19 task force co-ordinator, Jeff Zients, told reporters that under President Trump there was no strategy at federal level and a comprehensive approach was lacking.
He said: "As President Biden steps into office today, that all changes."
The Biden administration unveiled a seven-point plan which included efforts to facilitate effective distribution of vaccines and reliable access to testing.
On top of the already announced rules on wearing masks and social distancing on all federal government property, face coverings will become mandatory on many planes and trains.
Jeff Zients said: "What we're inheriting is so much worse than we could have imagined."
In a further break with the previous administration, Joe Biden's chief medical adviser, Dr Anthony Fauci, said the US would join the Covax scheme designed to deliver Covid vaccines to poor countries.
Speaking by video call to the WHO in Geneva, Dr. Anthony Fauci also stressed that the US would continue to provide funding for the WHO, in line with President Biden's move to reverse Donald Trump's decision to leave.
Only hours after being sworn in, Joe Biden signed 15 executive orders, including reversing Trump's policies on climate change and immigration.
A major theme of his inauguration speech was unity after the major divisions laid bare during the Trump administration.
Joe Biden promised to be a president "for all Americans", including those who voted against him.