Dealing with signatures is one of the biggest time-consuming issues companies face daily. Waiting on signatures causes great delays in completing business deals. With this guide, companies will learn about the benefits of using e-signatures for all their contracts and NDAs.
What Are Electronic Signatures?
Electronic signatures, often referred to as e-signatures from mSign, are both an efficient and legally binding way to gather signatures for documents of all types. In most all processes, electronic signatures may replace handwritten ones. Companies that are interested in these services need to learn more about their options and the benefits. 
Reasons Electronic Signatures Are Used
Electronic signatures are used in many industries and for multiple reasons. The following are some of the ways this signature service may be used in a company. Being aware of these reasons will help business owners decide if their company will benefit from e-signatures. 
Sales teams will stay more focused because they do not have to worry about taking care of repetitive and time-consuming tasks.
In the Human Relations department, productivity increases greatly. Job candidates will find the hiring process attractive because they can easily sign employment paperwork.
Financial services will find e-signatures highly beneficial. Employees may capture and share personal information without cumbersome paperwork.
Life science companies and departments will also find these services to help speed up their workflow and allow them to protect patient privacy.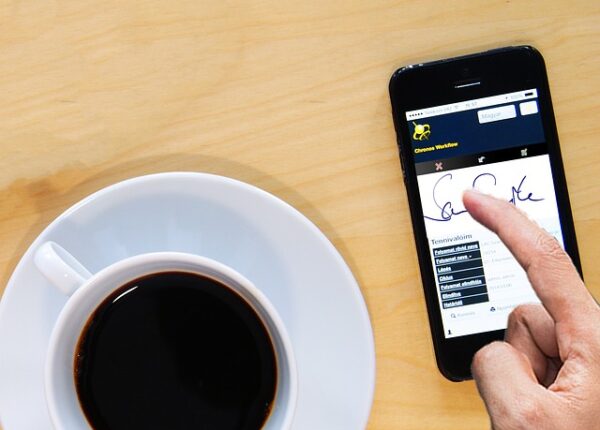 What Are the Benefits of Using Electronic Signatures?
When companies switch from handwritten signatures to e-signatures, they experience a range of benefits. The following offers information on some of these benefits.
Business practices can continue from anywhere, even when employees are on the move or not in the office. Electronic signatures may be set up and completed from remote locations, preventing stagnation in the workflow. 
Companies will also find they reduce time waste and costs. Shipping contracts to various individuals is time-consuming and expensive. With e-signatures, time is no longer wasted on waiting for contracts to arrive. Companies will also find their costs are significantly reduced. 
Another major benefit of using these services is the real-time notifications provided to the company. Employees can view all stages of the e-signature process and will be alerted when signatures have been obtained. 
These signature services help reduce fraud and offer increased security. Signature software includes many safety measures that protect against unauthorized use. These services add a layer of protection that cannot be obtained when seeking handwritten signatures. 
With e-signatures, every party involved in the signature process will find the steps much easier and less stressful. Business deals often need to close quickly. Stress sometimes causes parties to drop out of agreements. Making the process as stress-free as possible keeps everyone on the same page. 
How to Legally Sign Documents Electronically
With many things moving online, electronic signatures are becoming increasingly commonplace. Taking the proper steps to ensure a signature is legally binding is essential. Taking the following steps will help to ensure signatures are legally binding.
Make sure the signature is clear.
Avoid split executions.
Ensure there are witnesses.
Check the authority of the user.
Discover More Information
Companies that want to discover their e-signature options need to research as much as possible. Choosing the right e-signature service ensures companies experience the benefits above, without stress and complication. The best e-signature service should offer a seamless approach to capturing electronic signatures.