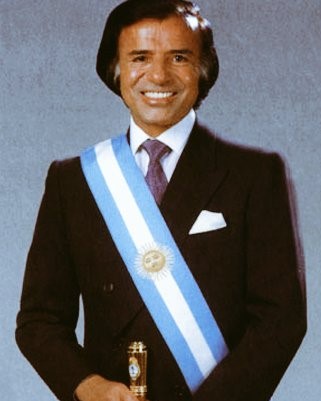 Former Argentine President Carlos Menem died on February 14 at the Los Arcos Sanatorium in Palermo. He was 90 years old.
He served as the country's president for 10 years, between 1989 and 1999.
Carlos Menem was a politician known for his dashing good looks and extravagant lifestyle.
He was a far cry from the military dictators he preceded and a throwback to the glamour of his political hero, Juan Perón.
After years of political instability Menem hoped to rescue Argentina from economic abyss, restoring its financial prosperity by seducing it away from isolationism and protectionism.
He opened the country to foreign investment, re-established relations with Britain and shifted its antagonistic relationship with the United States to one of almost unconditional support.
However, Carlos Menem's administration was battered by financial scandal, rampant corruption, spiraling unemployment and irresponsible borrowing which sowed the seeds for a further, catastrophic economic collapse shortly after he left office.
Carlos Saúl Menem was born on July 2, 1930, in Anillaco – a small town in the north west of Argentina.
His parents were both immigrants from Syria. Born a Muslim, he became a Roman Catholic in his youth, but retained strong ties to his parents' homeland.
After studying law at the University of Córdoba, Carlos Menem became active in the campaign to free political prisoners and was a supporter of the country's former authoritarian president, Juan Perón.
In 1956, the year after Juan Perón was toppled in a military coup, Carlos Menem was arrested for attempting to foment violent opposition to the government and was briefly imprisoned. The following year he formed a provincial branch of the Peronist Youth movement.
Carlos Menem was elected as the local representative for his region in 1962, but yet another military coup prevented him from taking his seat. He travelled to Spain, where he met the exiled Perón, who gave Menem his blessing and predicted him a great future.
He was imprisoned by the military junta, this time for two years – accused of corruption and links with guerrilla movements. He was banished from the capital and restrictions placed on his political involvement until Argentina's defeat in the Falklands and the collapse of the regime of Gen Leopoldo Galtieri.
With the country's economy in tatters and the annual rate of inflation running at 5,000%, Carlos Menem's government faced a crisis from the start.
He set out to convince the international financial community that he was capable of turning his country's fortunes around. He pegged the peso to the US dollar, privatized public utilities and introduced a more market-based economy – a far cry from Peronism.
Additional foreign investment gave the country a much needed financial boost, reducing inflation and increasing output, but it came at the cost of mass unemployment.
Even so, Carlos Menem was re-elected in 1995 after he had amended the constitution to allow a second presidential term. But the glitz and glamour of the jet-setting, philandering, sports-mad president could not mask increasing problems with the economy.
He was close to both US President George W. Bush and President Bill Clinton. He was invited to address a joint session of the US Congress and helped to found Mercosur, the South American customs union.