Muhammad Abu Salmiya, the director of the Gaza Strip's main hospital raided by Israeli soldiers, says the facility has now run out of oxygen and water, and patients "are screaming from thirst".
He said the conditions were "tragic" in Al-Shifa hospital, where there were more than 650 patients, 500 medical staff and 5,000 displaced people.
Israeli tanks were surrounding the hospital in Gaza City, Abu Samlmiya said, with drones buzzing overhead and Israeli soldiers still moving around inside, as their search of the complex lasted a second day.
Israel's army said its operation against Hamas was proceeding in a "discreet, methodical and thorough manner".
Since the Israel Defense Forces (IDF) launched their raid on Al-Shifa on November 15, they have released several photos and videos of what they say are Hamas weapons and equipment.
On November 16, they said they had found an "operational tunnel shaft and a vehicle containing a large number of weapons".
Muhammad Abu Salmiya said Israeli troops had blown up Al-Shifa's main water line.
"Sniping operations continue, no-one can move from one building to another, and we have lost communication with our colleagues," he said.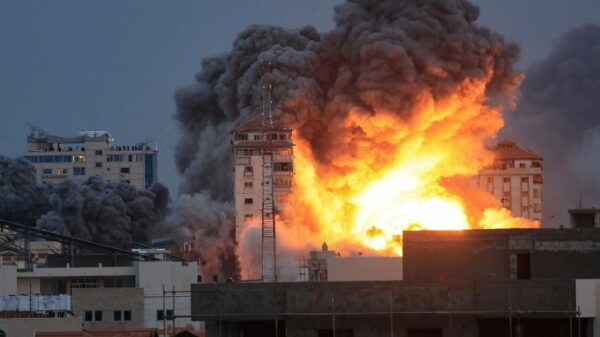 Gaza's Hamas-controlled health ministry reports that Israeli bulldozers "destroyed parts of the southern entrance" of the medical complex.
Israel launched a major military campaign in the Gaza Strip to destroy Hamas in retaliation for the October 7 cross-border attack by hundreds of gunmen. Israel considers Hamas a terrorist group, as does the US and European Union.
At least 1,200 people were killed in Hamas's assault on Israel and about 240 others were taken hostage.
Since Israel started its counter-attack, Gaza's Hamas-run health ministry has said at least 11,400 people have been killed in the territory and the UN has warned of a "humanitarian disaster".
On November 16, the IDF announced that the body of one of the hostages had been found near Al-Shifa.
The IDF identified the victim as Yehudit Weiss, saying she had been kidnapped from her home in Be'eri – a kibbutz in southern Israel.
At the same time, there have been reports of a major phone and internet outage in Gaza believed to have been caused by telecom companies running out of fuel supplies.
The IDF said their soldiers were continuing their "complex" operation against Hamas at the hospital.
The official reiterated the IDF's claim that there was a "well-hidden terrorist infrastructure in the complex".
Hamas has repeatedly denied that its fighters have been operating inside the hospital.
On November 16, Osama Hamdan, the most senior Hamas leader in Lebanon, ridiculed the Israeli weapons claims, saying that all the arms had been brought in and planted in the hospital by Israelis.
The Israeli government has not commented on Osama Hamdan's allegation.
In a separate development, Israel has dropped dropped leaflets in the Khan Younis area of southern Gaza, warning people in four towns to evacuate their homes and head to shelters.
If that is an indication of an upcoming military operation around the southern city of Khan Younis, it could be a real concern to the hundreds of thousands now sheltering there.
Before the war, Khan Younis was home to about 300,000 people – a number that has now grown to one million after Israel urged civilians to move south for their safety.