Do V-Necks Look Good On Men?
A V-neck is one of the most popular men's garments. However, it has a rocky history and has often received criticism from both fashion experts and the public.
What started as a collarless undershirt has turned into a piece worn on its own for many occasions, yet still, some people claim that nobody looks good in a V-neck.
So let's take and look and make a final decision about whether v-necks look good on men. Check out some of the main things you must know about these tees and why do they even exist.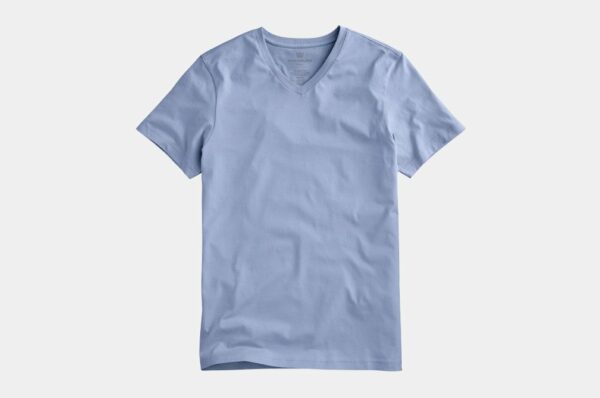 History in a nutshell
V-necks were invented after the traditional crewnecks, and the reason was that many guys didn't like the crew's collar peeking from under their jumpers and shirts.
Besides that, the fashion industry was looking for a way to "spice things up" and offer men something new and more exciting.
It took some time for guys to adopt this style and start wearing it on its own, and the peak of popularity was reached in the 2000s when pretty much every guy had one. After a short dip, the V-necks are now back, and the choice of colors, fabrics, and styles is wider than ever.
The arguments against
But why do many people dislike V-necks? Well, one of the main reasons is that they think that deep V cuts look tacky and remind everyone of the infamous Jersey-shore type guys.
We get it – when the cut is deep, it may expose too much chest and chest hair which is undesirable.
Another thing that makes V-necks look tacky is a bad fit. If the tee is too big or too tight, there's just no way around it!
Lastly, many guys dislike the fact that the V cut gets stretched out too fast, and they need to toss the tee to avoid looking sloppy.
Why do V-necks look good
Yes, these are all valid reasons, but they're very avoidable. Want a V-neck? Just don't make any of these mistakes!
Now let's get to the reasons why do V-necks look good and why you should stock up on at least a few pieces!
More stylish and put-together
We admit that style and taste are personal, but V-necks are considered a more fashionable choice than your classic crews in the fashion world.
You will look more put together even if you wear it with simple jeans or basic chinos, and a V-neck is definitely a better choice to wear under your blazers or suits.
One key thing to remember is choosing the right V cut because a too deep cut will give an opposite effect. Opt for thees with a cut no lower than 2-3 inches below the collarbone, and you're safe!
Flatters and elongates the body
Let's get real. Almost all guys would have nothing against a couple of extra inches in height! You should definitely consider wearing a men's black v-neck tee if you're one of them because it has an elongating effect. 
Yep, you will look taller and slimmer, and that's an undeniable win.
V-necks are also great if you've spent a lot of time at the gym and now want to show off a little as they usually hug the figure nice and tight.
Layering MVP
V-necks are excellent as the layering base from pretty much anything from cardings to jumpers to leather and denim jackets.
The tee seamlessly fits the body and doesn't overshadow your main piece, e.g., a nice chunky cardigan.
We recommend having at least a few V-necks in different base colors so you can create more great looks—stock up on black, white, grey, navy, olive, and burgundy pieces.