Blockchain for Government Initiative Goes to Sudan on Official Visit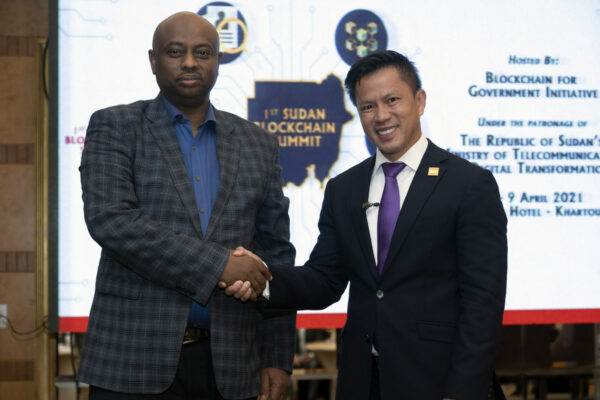 Bitcoin Association, a Switzerland-based non-profit organization that advances the adoption of the Bitcoin SV blockchain is leading the Blockchain for Government Initiative by successfully finishing a week-long official visit to the Republic of the Sudan last April. Bitcoin Association was invited and hosted by the country's Ministry of Telecommunication and Digital Transformation to explore how blockchain technology can aid the African nation advance into the digital world. The highlight of the visit was a two-day event that was Sudan's first-ever Blockchain Summit & Workshop.
"In Sudan, we are in a transition period after thirty years of sanctions and thirty years of a bad regime. Now we are in a transition period in which we want to reform our country and reform the government. Digital transformation is a key pillar in this reformation. We are working on building a national strategy for digital transformation that aims to change the government from manual to digital, to make sure that the government will be more efficient, more smart, more in control and more transparent," Hashim Hasabelrasoul Hashim, Minister of Telecommunication and Digital Transformation for the Republic of the Sudan, said in an interview.
Civil wars, armed conflicts against neighboring countries and an authoritarian president who ruled the country for three decades have hindered the country's growth. As Sudan transitions into a democracy, its government is doing its best to propel the nation forward into the digital age in order to uplift its people and economy. And the Bitcoin SV (BSV) blockchain is certainly the most innovative and effective way to do it.
"I can clearly see a role for blockchain throughout different verticals within the government; digital identification is one of many, financial inclusion, digital certifications and many more to come, where we can benefit from blockchain. We want to be the first and lead on this technology in the country because it will enable us to really depend on real data that is secure," Hashim added.
The delegation, headed by Bitcoin Association Founding President Jimmy Nguyen, was composed of CEOs and founders of businesses from various industries that have successfully built platforms on the BSV blockchain. Aside from the two-day workshop, the BSV delegation, who are all experts in their fields, also conducted separate meetings with the Central Bank of Sudan, the Ministry of Telecommunication & Digital Transformation, the Ministry of Interior Affairs, leading telecommunications company SudaTel, and the 249 Startups hub for Sudanese entrepreneurs.
"Blockchain can help us to build a better world and our trip to Sudan left us feeling even more inspired to make that vision a reality… As we explore opportunities for initial blockchain projects in Sudan, we know that BSV's massive scaling and focus on data network capabilities can provide the blockchain power needed to advance digital transformation for Sudan and greater Africa," Nguyen said.
BSV's Blockchain for Government Initiative is geared towards providing accurate Bitcoin education and the global adoption of blockchain technology by national governments, NGOs and the public sector with the ultimate goal of advancing digital transformation and inducing economic growth. Because Bitcoin SV has restored the original Bitcoin protocol and unleashed the unlimited scaling potential of its blockchain through the release of the Genesis Upgrade last year, it is more than capable of handling the big data being generated by governments on a daily basis. Instant microtransactions allow it to be cost-efficient; and data is secure, transparent and clean.