North Korea Claims Latest Missile Launch Was A New-Type Tactical Guided Projectile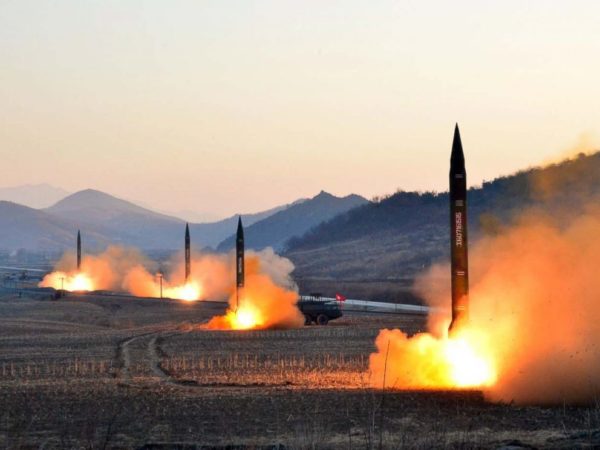 North Korea has claimed the missiles it launched on March 25 were a "new-type tactical guided projectile", in its first statement since the test.
It was the country's first ballistic launch in almost a year and the first since Joe Biden became US President.
President Biden has said the US will "respond accordingly". The US, Japan and South Korea have condemned the tests.
Under UN Security Council resolutions, North Korea is banned from testing ballistic missiles.
North Korea's statement on March 26, issued through state media outlet KCNA, says the two weapons struck a test target 373 miles off North Korea's east coast, disputing Japanese assessments that they flew just over 240 miles.
It added that the new missile is able to carry a payload of 2.5 tons, which would make it capable of carrying a nuclear warhead.
"The development of this weapon system is of great significance in bolstering up the military power of the country and deterring all sorts of military threats," Ri Pyong Chol, the senior leader who oversaw the test, was quoted as saying.
North Korean leader Kim Jong-un was not present.
President Biden told reporters that the launch was a violation of UN resolutions and that the US was consulting with partners and allies.
"There will be responses – if they choose to escalate, we will respond accordingly," he said.
"But I'm also prepared for some form of diplomacy, but it has to be conditioned upon the end result of denuclearization."
It remains unclear what exact type of missile the North Koreans have launched. State media said it had an "improved version of a solid fuel engine" and described it as a tactical guided missile that could perform "gliding and pull-up" maneuvers, which could mean it is harder to intercept.
However, the test highlights the progress North Korea's weapons program has seen since denuclearization talks with the US stalled under former President Donald Trump.
Analysts have suggested the missiles were the same as the ones unveiled at a military parade in the capital Pyongyang in October 2020.
"If that is the case, they appear to have an improved variant of the previously tested KN-23 missile with a really big warhead," Jeffrey Lewis of the James Martin Center for Nonproliferation Studies (CNS) told Reuters.
Such a new missile would allow North Korea to put heavier nuclear warheads on its rockets, Vipin Narang, a security studies professor at MIT said on Twitter.
Developing miniaturized nuclear warheads is difficult, although some observers believe that North Korea has this capability already.
North Korea last fired ballistic missiles a year ago amid stalled relations between then-US President Donald Trump and North Korean leader Kim Jong-un.
The Biden administration says it has unsuccessfully tried to make diplomatic contact with North Korea.
North Korea has yet to acknowledge that Joe Biden is now in office, and the two countries remain at loggerheads over the North's nuclear and ballistic missile programs.